Our owner is our CEO/COO, James A. ("Jim") Murray who took over a small metal shop from his grandfather more than 30 years ago and has turned it into a full-service metal fabricator, largely due to his energy and commitment to make whatever a customer asked of him. What his legacy will be arises from his pride of always doing a first-class job. Jim learned the basics of tool & die work in his grandfather's simple shop and applies this craft even today.
See more in the various pages of this updated website. Learn how he always embraces new technologies; gained AESS expertise then; implemented changes as they came online in his industry; and so much more. He too can help you to initiate project consulting and practical up-front planning even before getting the final specs or even project drawings.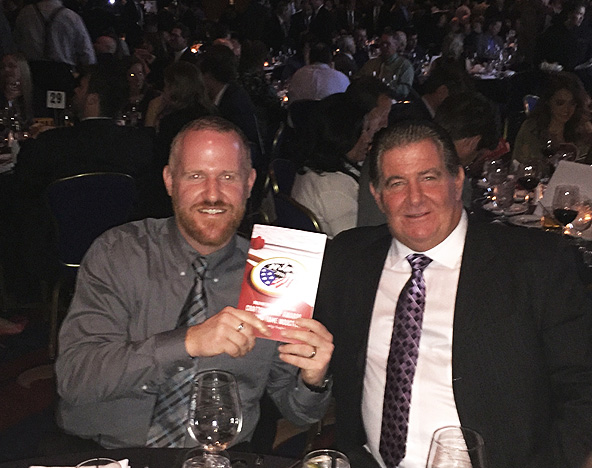 JIm Murray (right) at the Washington Building Congress Awards Dinner
for our work on the African American Museum in Washington, DC
Our website is constantly updated to provide more detail on his broad competence and experience in all aspects of metal fabricating. He speaks to his clientele through Newsletters, posted online regularly and sent to many customers by email.( Join on our e-mailing list below).
Call Jim, directly at 973-675-7676. He's literally always available to you. When you are next in the New York City metro area, come visit our facilities & see first-hand all we do and all we can do.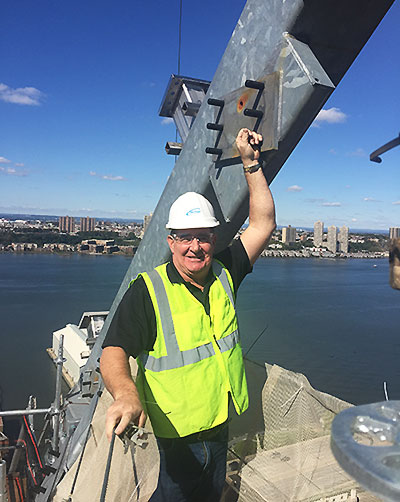 Our owner, Jim, "on the job" at a NYC jobsite
He listens and works hard to understand what you, our customers, actually need and tries to find even better ways to fulfill your job's needs. To him, high quality products and on-time delivery are equally important things. Reliability is his polestar.
His primary focus has always been the servicing of our customers and their needs. He services all customers' "rush" needs faster and better than any other fabricator.
What separates Jim from our competitors is his decades-old knowledge of metals as well as his skill in better fabricating all our many and different standard and custom products. He listens and works hard 24/7 to understand what is critical in each order. To Jim, high quality products and on-time delivery are equally important things. When we at Metfab Metals.,LLC make a promise, HE keeps it and will work any day, any hour, any shift to get your needs fulfilled. This company's reputation and his own personal reputations are built on this premise.
"There is no substitute for PERFORMANCE."