3-D Printers May Change How We All Make Metal
Parts for Your Jobs Too
| | |
| --- | --- |
| MEMBER: | |
Few metal fabricators have more expertise than Metfab Metals, LLC but we also watch developments in such things as 3-D printing. We want to be "ahead of the wave" for you and need to be focused on all the trends in our industry. We do not want to be automated out of business. We also don't want to be unable to nimbly service our customers as we have done for 30+ years! Here's a good example of what we watch.
SLM Solutions NA, Inc. of Novi, Michigan (1) shows what a German company is already doing with computer-driven lasers to make replacement parts to order via "3-D printing". The impact this may have on "after market" supplies and suppliers cannot yet be foretold by any but the best futurist thinkers! Take a look for yourself!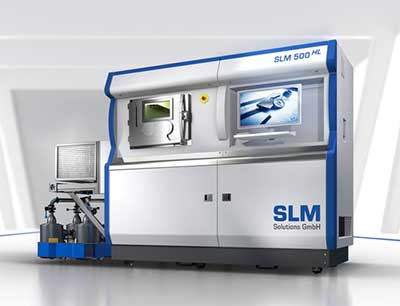 [SLM's newest quad laser 3-D printer]
SLM is to be thanked for this insight and "heads-up" to all of us working each day with currently-available technology. Ten years from now, we may all be wondering how we fulfilled our customers' needs in 2016, as we were such seeming Luddites then!
We presently have all the cutting-edge technology in our shops today and the young brains to use it best for you.
We can quote now several observations about this existing green "laser sintering"—and even more futuristic—technology! Such as,
Direct Metal Laser Sintering (DMLS) uses a precise, high-wattage laser to micro-weld powdered metals and alloys to form fully functional metal components from your CAD data. DMLS eliminates time-consuming tooling, and creates complex geometries not possible with other metal manufacturing processes. Made from materials like Inconel, Aluminum, Stainless Steel, and Titanium, DMLS parts are strong, durable, and heat-resistant. DMLS parts are also denser than investment casted metal parts. This accurate metal 3D printing process provides fine feature detail, making it ideal for complex oil and gas components, custom medical guides, consolidated aerospace parts, and tough functional prototypes.(2) ………….(partial text omitted).
Raw parts have a surface finish comparable to a fine investment cast part, but expert finishing services are crucial for a successful end-use component. This is partly why DMLS is not feasible for many companies and firms to take in-house with their own 3D printing operations, but [we have] the resources and experience you need. We offer a variety of professional finishing options, such as media blasting, electroplating, polishing, and CNC machining. Parts can also be heat treated in order to maximize mechanical properties. (3)
But what does this "3-D metal printing (sintering)" actually mean for you? Well, a part can take many forms, all defined by the specs issued for its fabrication. Most simply, it can just mean making of new parts in a better way not available at former times. It means fabrication by a new protocol---direct from your CAD drawing to the full one-step, melded fabrication of the "finished" product.
Regularly today, our entire building/fabricating process is guided by one word: GREEN, that is, the owners want to build the building in a far more energy efficient manner, entitling them to LEED recognitions, with projected power & maintenance savings offsetting higher fabrication costs. We hear these conversations more frequently now than ever with each new, groundbreaking job, such as the myriad ideas informing Hudson Yards in NYC. As we here at Metfab Metals know our industry (& yours) and always focus on the coming technologies, we can better handle your job's needs TODAY! This can mean for you that we can---and do---supply ALL the metal products for your innovative project. Currently, we are supplying various aspects of such cutting edge fabricated metals for Hudson Yards and more.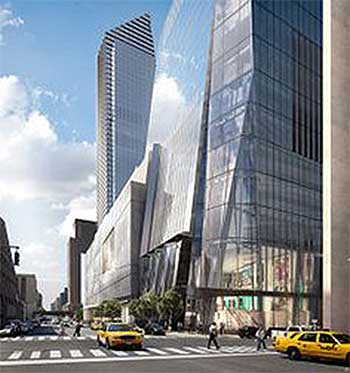 [Rendering of just part of Hudson Yards (NYC,NY), the largest private development in history.
Picture is courtesy of the Related Companies.]
Also importantly, this process requires planning with precise and workable specs BEFORE we generate an agreed-upon PO for the final fabricated metal needed at the modern jobsite, we ask our regular customers to involve us more in this planning stage. Ours is a NO-cost offer in which we take a look at what metals are needed and give the Owner & Design Team a chance to take advantage of our hands-on, current experience as to what works best in our aspect of the plans (then yet to be finalized). Months ago, here in this space, we talked about the value of VMU's and PMU's and how we offer that service. This is an item that can be considered a wise investment on many upscale jobs. (5)
We often take an order for a VMU or PMU (6) at an early pre-construction stage so the design team can see exactly they want, perhaps see how it reacts to the elements and issue revised specs, drawings and PO's along those adjusted lines. In our long experience, a VMU is an ultimately cost-effective way to qualitatively test whether your specs have a problem well-worth solving before committing to building out all the fabricated steel your design calls for, as well as ancillary parts such as glass, color, fillers, nuts & bolts and much more.
---
1. See this article and supplement online at www.globalspec.com/supplier/about/SLMSolutionsNA
2. Courtesy of Stratosys, www.stratasysdirect.com/solutions/direct-metal-laser-sintering (2016)
3. Ibid as #2 footnote. Courtesy of Stratosys, www.stratasysdirect.com/solutions/direct-metal-laser-sintering (2016)
4. Building Design & Construction (online magazine) at www.bcdnetwork.com (September 16, 2009) by Mark Baker, Pres., IBA Consultants:
6. PMU is the acronym for Performance MockUp. Basically the distinction between "Visual" (VMU) and "Performance" models is that in a VMU is made just so the owner, contractor(s) and Design Team can visually inspect it to better judge how it will "look" in its final, erected form, whereas the PMU is made to be shipped to retained experts to "perform" a series of tests to see how the model reacts to the stresses and strains of later actual use. See generally Building Design & Construction (online magazine) at www.bcdnetwork.com
---
Metfab Metals has decades of experience producing all the various metal parts/assemblies needed for YOUR retro jobs that can serve to make them go smoothly from its earliest stages------------and end successfully! Call us; you'll soon see we produce.
Call me for ALL your METALS questions. If I can't answer it, I have all the needed "sources" to do so!
Jim Murray, C.O.O. 973-675-7676

---