Metfab Metals, LLC
What's Next in Metal Fabrications?--More New Buildings; More Retros!
| | |
| --- | --- |
| MEMBER: | |
As we come face to face with the end of the calendar year 2017, we all tend to look back-----then ahead. New Year's resolutions have been based on this idea for centuries now. Lots of people make these, but rarely keep them. We here at Metfab Metals work really hard to keep all our business resolutions----and can show that we have.
So we looked back at our Newsletters for this year to see what we said-----and then we plan for what we might very well be doing----for our customers, including you----in the fast-approaching 2017. Of course, as in any soundly-run business, we have some future jobs "booked" already here at Metfab Metals that we now know will keep us busy for part of the coming year.
We also have lots of other work "quoted", most of which will become real PO's in the 12 months of 2018. Our history also informs us that "rush" work, last-minute orders, emergency needs and all the regular "SERVICES" business we offer all our customers will come to us too. We pride ourselves that this proven capacity sets us apart from many of our competitors!
In the past year, we published two monthly Newsletters focused largely on projects dedicated to "retro-fitting" and/or "retro-cladding" existing, even much older, buildings. These processes are often a sort of "two-edged sword"----projected savings but the risk of hidden conditions with consequential additional costs, risking the owner's budget itself. We can help here too, as we have so much experience now with addressing innovative solutions that your architect and engineer can then consider and approve.
But there are the beneficial "edges" or standard benefits in "retro" jobs for the owner too, usually in the form of substantial cost savings (as little site preparation is required); no new superstructure needs to be erected and; much of at least the exterior of the building can be preserved, then updated as designed. These "edges" come with a great deal less demolition required (the building is most often gutted, not completely razed or torn down, foundation and all); an often-cherished building is preserved (often with an historical "look") and; the time of job completion is far less than with totally new construction. Just last month in this same space (our October, 2017 Newsletter), we reported on the completion of our phase of the work on a prime example for such a preservation-to-restoration-to-upgrade of older buildings at 388-390 Greenwich Street in New York City.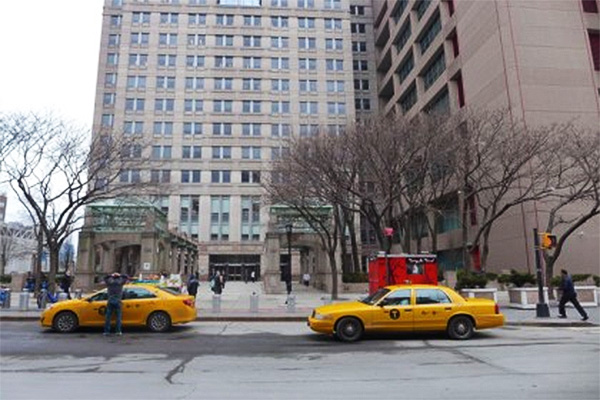 [Courtesy of Tribeca Citizen, March 30, 2015. Tired old look of both buildings before "retro-cladding" and other updates ]
Rendering as to how the restored buildings will look on completion: Courtesy of YIMBY Today, March 31, 2015.
…………………Citigroup is

relocating

its headquarters to 388 and 390 Greenwich Street, and …………..(reporting) how the financial giant plans to revamp the 1990s structures. …….. Citigroup employees say that renovations have begun, and they will continue for the next five years. After the makeover, the buildings "will be closely integrated into one unified building" with "a town square connecting the buildings." The facade of 390 (the shorter, fatter building) will be wrapped with glass, and the base of 388 will get the same glassy skin. Designs for the interior are still being finalized, but there will be a new lobby and single main entrance, plus a cafeteria, fitness center, and roof terrace. 1
Now here at Metfab Metals with our almost three decades of fabricating the specialty metals needed for older buildings (and new also), we want you to know that we look forward to 2018 so we can help you build the buildings of the future, whether they are brand-new or the restoration of those already standing such as 388-390 Greenwich pictured above. Especially during the last 20 years or so, we have made all the parts you have needed; no matter how unique your architect has drawn them or the building's own "retro" re-design has required, even for originally "hidden" conditions.
Though we have grown significantly over that period, we here at Metfab Metals have adjusted to both your bigger and more modest projects alike. We are truly "customer-compatible" in the best sense of the term. We have learned to use the best available technology and trained our staff to work "hand in glove" with yours. And, as we said last month, we've added skilled, certified welders, additional facilities, but, most importantly, we added wide-ranging experience that helps you in so many ways to finish a top-flight job as planned, specified and contracted.
In short, whether your next job is new or retro, give us a chance to quote your specialty metal needs. We'll never disappoint you----with the quote or as we work with you during construction to address your metals needs often as they arise.
Metfab Metals has decades of experience producing all the various metal parts/assemblies, while mixing in our first-class SERVICES, all equally needed for YOUR jobs to progress without delay. In this way, we can make your jobs go smoothly from their earliest stages-----------------and end successfully!
---
1. Excerpted from March 31,2015, Curbed, New York
---
Call us; you'll soon see we produce.
Call me for ALL your METALS questions. If I can't answer it, I have all the needed "sources" to do so!