Metfab Metals, LLC
VMU's----"Visual Mock-Ups"---Re-Visited
| | |
| --- | --- |
| MEMBER: | |
WORKING TOGETHER ON YOUR PRE-CONSTRUCTION MODELS
We are happy to announce that we were just retained to fabricate the mullions, parts and assemblies to build on our premises here in Orange, NJ two (2) new VMU's. We are not at all new to this work as we previously built, among many others a 50+ foot high VMU for the new WTC4 tower at Ground Zero in the first decade of the 2000's and then the chamber needed in 2012 to test the appropriate finishes and structure of the outside "web" of the National Museum of African American History and Culture now standing in Washington, DC. We did others here even earlier.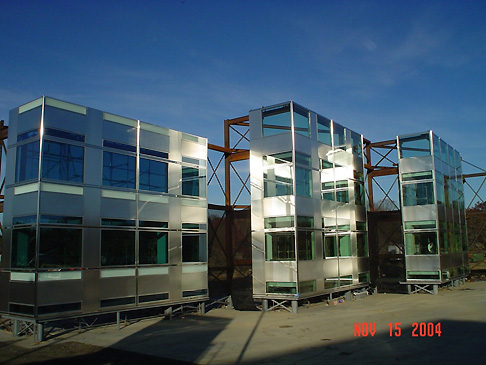 These are examples of VMU's we fabricated over a decade ago.
In our Newsletter last December (2017), we recapped many of the advancements we made last year; pointedly in Retro-Fits, Technology, Plasma Cutting and advanced Welder Certifications (now reported on our website). One of our skills that we did not cover here in 2017 was our expertise at VMU manufacture and hosting. Everyone active in this industry knows the value of these pre-construction chambers to a large project. [For smaller jobs, we have many times fabricated a movable/scalable model for examination by the Design Team.]
But we have to go back to 2016 to identify a Newsletter in our archives (stored and also available now on our website) dedicated solely to these "chambers" or scaled models. [Look there under our website topic "Newsletters" for the August 2016 issue.] Some excerpts here can again illustrate this service we can bring to your project.
When your project specs a VMU, even with specialty AESS 1FRAMES, no one has more expertise and longer experience than Metfab Metals, LLC. Few can give you the option of erecting it at their yards, "dry-fitting" for pre-welding inspections……., delivering in modular parts or welded/assembled/finished to your jobsite or delivering it to your designee to be tested as a "PMU" (see footnote #4 below).
---
These elements can also be finished to AESS 2 standards, a process we have have worked with now for 30+ years.]
But how does this fit with your job needs? As we here at Metfab Metals know our industry (& yours) and always focus on how we can better handle your job's needs, this means we can---and do---supply ALL the metal products you need. And this regularly starts BEFORE we get a PO for the final fabricated metal needed at the jobsite 3.
"For those not familiar with curtain wall mockup testing, it involves constructing a full-scale, representative section of a curtain wall system and subjecting it to a battery of tests prior to full-scale production of the curtain wall components. It is important to perform the mockup testing well in advance of fabrication, assembly, and installation so that any design changes can be incorporated into the production of panels. Typically, the test specimen is selected by the curtain wall consultant or architect to ensure it incorporates all critical components of the curtain wall, including stack joints, inside and outside corners, operable vents, maximum glass sizes, and mullion spans. The consultant or architect will also develop a test procedure, which almost always includes air infiltration testing, water penetration resistance testing (using both static and dynamic pressures), and structural load testing." [Building Design & Construction (online magazine) at www.bcdnetwork.com (September 16, 2009)]
We often take an order for a VMU or PMU 4 at an early pre-construction stage so the design team can see exactly they want, perhaps see how it reacts to the elements and issue revised specs, drawings and PO's along those adjusted lines. In our long experience, a VMU is an ultimately cost-effective way to qualitatively test whether your specs have a problem well-worth solving before committing to building out all the fabricated steel your design calls for, as well as ancillary parts such as glass, color, fillers, nuts & bolts and much more.
Metfab Metals has decades of experience making these various
Mock-Ups/Models so that we can help make YOUR jobs go smoothly
from its earliest stages------------and end successfully!
Call us; you'll soon see we produce.
UPDATES:

Hudson Yards, NYC, NY-----We have been working here throughout 2015, 2016, 2017 and now into 2018. This massive project built on a formerly-abandoned, in-city railroad car storage yard, up on the West Side of Manhattan, has required both the sophisticated and the mundane; everything from common anchors to classic AESS solid steel mullions, very similar to the same huge pristine mullions we delivered to WTC4. And there are at least two more years of building ahead.
National Museum of African American History & Culture, Wash., DC -----We have written in Newsletters and other sales materials many times about this job. But there's a reason---a good reason---we are very proud of what we accomplished here. Not only did we do the finest level of AESS work here, we delivered 70+ feet AESS trusses over 200 miles in pristine installation condition. Our new website wil have varied illustrations of this now-iconic project.
---
Call me for ALL your METALS questions. If I can't answer it, I have all the needed "sources" to do so!
Jim Murray, C.O.O. 973-675-7676

We always offer to work with our customers from the job concept
stage to anticipate issues before fabrication, to suggest better ways
to order, extrude, cut, drill, paint, finish, even stage and deliver and
always to save time and money.
---
1. AESS is Architecturally Exposed Structural Steel, and is finely-finished steel members (prepped, welded, filled, blasted, polished, and/or uniquely painted/finished) to be permanently open to the view and touch by all after the job is done.
2. See also: CISC Guide for Specifying Architecturally Exposed Structural Steel. Canadian Institute of Steel Construction, 2012, 2nd Edition, Page 7, primarily authored by Terri Meyer Boake, , B.E.S., B. Arch., M. Arch., LEED AP. We are grateful to her and this resource for all its very useful insights and clarity. This is a useful tool in both explaining this art, as well as drawing accurate specifications.
3. Building Design & Construction (online magazine) at www.bcdnetwork.com (September 16, 2009) by Mark Baker, Pres., IBA Consultants:
4. PMU is the acronym for Performance MockUp. Basically the distinction between "Visual" and "Performance" models is that in the former it is made just so the owner, contractor(s) and Design Team can visually inspect it to better judge how it will "look" in its final, erected form, whereas the PMU is made to be shipped to retained experts to "perform" a series of tests to see how the model reacts to the stresses and strains of later actual use. See generally Building Design & Construction (online magazine) at www.bcdnetwork.com