Metfab Metals, LLC
Mullions; Trusses; Curtainwall Support Steel—- Metfab
Metals makes them all!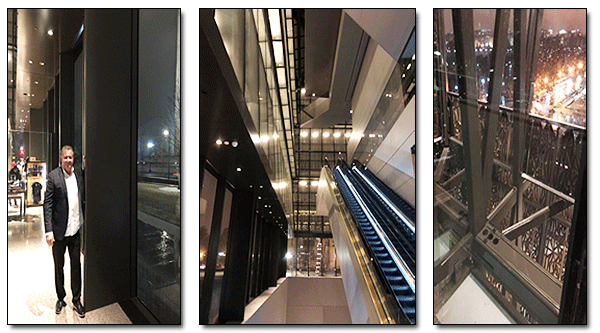 [National Museum of African American History & Culture (NMAAHC)---2018 photos].
Over five (5) years ago, we started the basic truss and AESS1 work you can see above as they support the exterior sheaf of this Washington, DC National Museum of African American History & Culture (NMAAHC). (In 2012, we built in our yard here, the Visual Mock Up---"VMU"---for this uniquely envisioned structure.)
Since then, this iconic museum has opened to the public----and later to a number of awards for its architectural innovations and our steel with its 21st century finishes. We are proud to have supplied some of the elements that were lauded---and we now picture above. We also picture there our owner, Jim Murray, when he and his wife, Lauri, visited the museum this past February. Even Jim, with his 30+ years of experience in steel fabrication was amazed at how beautiful these AESS elements appear after the real passage of time. These will all still be pristine decades from now, as the Design Team planned-----and we fulfilled. Since its dedication, we have applied the signature art-form of this external finish (AESS) to many other projects, in many incarnations. Look back over our former Newsletters for the past five years and more and you will see varied samplings of this popular steel finish.
But what does this all mean to you, our customers, here at Metfab Metals? It means we know our industry and always adjust and learn so that we better handle our common marketplace and the metal products you need. We do this so that we can fulfill all your metals needs. We daily implement better methods, better processes, better suppliers/subcontractors, better technology, and better records of how we did it all.
So send us all your "specialty steel" work, especially if your job's specs require specialty finishes or unique fabrications. We not only get it done right, we retain only long-term experts in these related sciences so we can give you compliance with all the details of your specs and, if necessary, the on-site cures for any minor jobsite damage, followed by the certifications your job specs more and more often require before your last invoice is paid.
Metfab Metals has decades of experience making these parts and making YOUR jobs go smoothly and end successfully! Call us; you'll soon see what we have written here is what happens there.
---
Call me for ALL your METALS questions. If I can't answer it, I have all the needed "sources" to do so!
Jim Murray, C.O.O. 973-675-7676

---
1. AESS is Architecturally Exposed Structural Steel, and is finely-finished steel members (prepped, welded, filled, blasted, polished, and/or uniquely painted/finished) to be permanently open to the view and touch by all after the job is done.