Metfab Metals, LLC
AESS ---- Here's How We Make It Best in Every way, Every Day!
| | |
| --- | --- |
| MEMBER: | |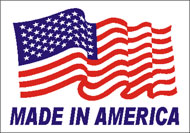 You all likely know that we here at Metfab Metals, LLC are experts in producing small or large AESS jobs 1. Just one year ago we reported in this space that we can now do this with NO significant errors, deliver your orders on time, and comply with every spec and special delivery condition, even at huge jobs like Hudson Yards 2.
Last year we also outlined what we here at Metfab Metals meticulously and in detail follow in a quality program roughly akin to Six Sigma 3. This has resulted in job after job with NO production defects and no return parts for correction or re-fabrication! But we never before illustrated how our AESS production is done. It all boils down, broadly speaking, to the step by step processes we follow and record (for QC purposes also) with EVERY AESS part, assembly, truss, mullion, or miscellaneous metal part we make. Below we identify and then illustrate these steps that guarantee the parts you order are the parts you receive. These steps can be summarized as follows:
Acquisition, ordering and receiving of all the necessary steel sizes/types & prep for fabrication;
Basic fabrication (of course, this includes cutting and shaping; bending; welding; initial conformance to job specs);
Weld-grinding, sanding/finishing raw steel parts & all exposed surfaces;
[When required] Adding support members to maintain ordered specs through all subsequent steps;
Initial finishing, sanding, machining to rough compliance with specified category of AESS;
Final sanding/filling/finishing/re-finishing to exact compliance with specific, ordered category of AESS, as provided in customer Purchase Order (P.O.);
Wrapping, packaging, cushioning, strapping for safe loading/unloading to assure no damage to ordered finish; Marking & tagging all finished members for ease of identification & installation at the jobsite; Loading, placement & securing for safe, damage-free transport under all conditions.
At jobsite, your ordered AESS to be installed in pristine condition for both appearance and function through years & decades to come. (As illustrated in last frame of attached video per the

National Museum of African American History & Culture

.)
[See attached brief video for actual vivid illustrations of these manufacturing and supply steps.]
Rigorous compliance with these disciplines has allowed us to reduce and eliminate errors, avoid delays, cut costs, deliver on time and deliver exactly as ordered.
Come in and see what we can do for you. Or just come in and discuss how we have achieved this quality with these economies over recent years. Again, come in and look for yourself!!!!
As we have said so often before, NO metal fabricator has more expertise and more focused experience than Metfab Metals, LLC for all your AESS needs. Our service not only means "we speed what you need" to your jobsite; it means we can improvise and implement whatever will make your job go smoother, faster and on-time.
Metfab Metals has decades of experience producing, to exacting specifications, all the various AESS metal parts needed for YOUR multi-faceted jobs with precision that serves to make your jobs go smoothly from its earliest stages------------and end successfully!
No order is too small; none too large;
none too difficult; none too challenging. Call us;
you'll soon see we ALWAYS produce.
We are ...... Metfab!!!!
Keep in mind: Our All American service is as good as our metals!
Jim Murray, C.O.O. 973-675-7676
---
1. AESS is Architecturally Exposed Structural Steel, See our new website for a full exposition of this art's meaning and so repeated applications or it.
2. This current West Side development in NYC is the largest such privately-financed development in the world to date. There are literally more than a dozen
multi-use buildings rising on this former railroad yard site. See our Newsletter for April, 2017,
3.Six Sigma is the common manufacturing standard that identify programs with zero tolerance for quality shortcomings. The goal always is to improve the
quality of the output of the entire process by identifying and removing the causes of defects and minimizing variability in manufacturing and business processes.
It requires a defined sequence of steps and has specific value targets, for example: reduce process cycle time, reduce pollution, reduce costs, increase customer
satisfaction, and increase profits. It seeks to improve the quality of the output of a process by identifying and removing the causes of defects…….