Metfab Metals, LLC
New Steels; New Amalgams
| | |
| --- | --- |
| MEMBER: | |
We were all struck by the truly unique appearance of the athletic stadium the Chinese unveiled for the Beijing Olympics. Its visuals were so striking that it fast acquired a telling nickname as the "Bird's Nest", due to its cutting edge design and amenities.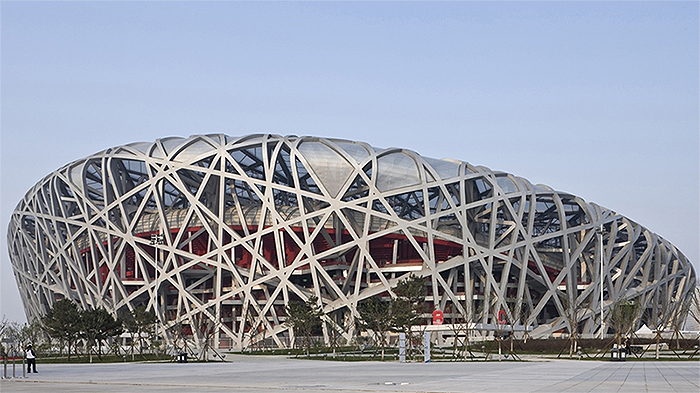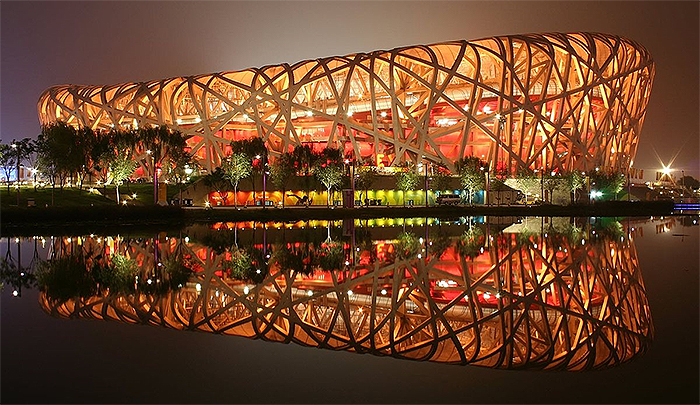 [Day & Night Views of the Bird's Nest]
These breath-taking views were only possible as a result of the development of steel alloys that could be "carved" to the futuristic specifications designed. Maybe these new alloys and amalgams presage fabrications in this country we can't fully catalogue at this time. But we here at Metfab Metals intend to be ready to produce parts and assemblies per specs similar to those for the Chinese Bird's Nest.
.The Bird's Nest (even without considering the impact of the new steel amalgams /alloys used and/or carved) is itself an engineering marvel. It is reported to be the "largest steel structure in the world", as it incorporated 42,000 tons of steel into its outer shell alone. It also is almost 1100 feet long; over 225 feet high; and over 720 feet wide. It can seat over 90,000 people. 1
The distinctive stadium is supported by 24 independent truss columns, each weighing 1000 tons apiece. As no crane could lift even one of these, they had to be assembled in parts, on site. Smaller beams were then welded in between to give both (a) greater structural strength and (b) to "enhance the unique elliptical crosshatch appearance." Even then, the Design team debated whether this unique, huge structure could support its own weight! It did, of course.
And then yet to be solved!!! --- considerable seismic and climate issues. They had to build this Nest to withstand an earthquake of an 8.0 magnitude!!!! Then the remaining quandary was thermal expansion as Beijing experiences a temperature range of 30 degrees Celsius in summer to -20 degrees Celsius in winter. This was not a minor speed bump to pass quickly by as it translates in our Fahrenheit temps to a swing of almost 100 degrees from below zero (or about 40 degrees below freezing) to almost 90 degrees Fahrenheit. This was no simple task to deal with. But it was.
But these challenges did lead to the stadium's engineers seeking previously-unknown steel grades to immediately meet/exceed the strength and flexibility demands of customer safety. In turn, the Chinese suppliers provided a new steel amalgam with low phosphor and low sulfur content to bear the high stress inherent in the stadium structure. This amalgam they called "Q35". To comply with the remainder of the shell's demands, they developed yet another new steel they called "Q460" which provided high strength but simultaneously great flexibility.
Of course, such new steels then also presented new welding challenges. This was especially related to the optimum temperature at which they could even do the welding and the extant weather conditions in which the welders could work at all. Evening work and odd welding schedules were implemented and ultimately successfully produced the stadium's iconic latticed steel frame. This in turn led to what has been called the "poignant symbol of modern China and the engineering ability of mankind." 2 But we here at Metfab Metals study these new approaches to evolving designs so we can be ready to quote and then fulfill the plans and specs of the future.
Our long experience with AESS steel and all the other types of steel uniquely qualifies Metfab Metals as the kind of classic fabricator that can fulfill your most challenging design, whether it be a unique, futuristic stadium or some other more traditional building. This is especially so as Metfab Metals has for decades now made constituent parts daily to very critical tolerances, for billion dollar buildings (and far more humble, but also precise, jobs too). In ALL of these, we seek--and deliver-- 100% compliance with the specs, as given to us, pre-engineered and computer-drawn. And always ON TIME!!!
---
Metfab Metals has decades of experience making precision (maybe better stated as "perfect") fabricated metals, parts & assemblies
so that YOUR jobs go perfectly smoothly from its earliest stages--------and end as scheduled, on time and successfully!
Call us (even at the "Concept Stage" before your job is ready to issue a Purchase Order); you'll soon see we produce..
We are ----- METFAB!!!!!!
---
Updates:
New "Portal" Jobs----- We seemingly now are working on one portal after another, from New York City to Virginia at present. These are being designed for commercial developments, campus buildings and other public projects. Watch these Newsletters for future updates on these exciting issues. These are further examples of what our spectrum of metal skills can produce.
Hudson Yards, NYC, NY-----This huge campus of buildings on the West Side of Manhattan seemingly requires constant AESS parts, assemblies and mullions. We work hard to meet repeated demands for all manner of utterly unique "signature" parts for these glass high-rises and its central palace of entertainment---The Shed.
---
Call me for ALL your METALS questions. If I can't answer it,
I have all the needed "sources" to do so!
Jim Murray, C.O.O. 973-675-7676


---
We always offer to work with our customers from the job concept
stage to anticipate issues before fabrication, to suggest better ways
to order, extrude, cut, drill, paint, finish, even stage and deliver and
always to save time and money.
---
1. See #2 footnote.
2. Beijing's Stadium "Bird's Nest", https://www.thebalancesmb.com/beijing-s-bird-s-nest-stadium-2340205
---