Metfab Metals, LLC
ALUMINUM----Remember! We Do This Too! Fabricated, Machined, Welded and Finished to your Spec
| | |
| --- | --- |
| MEMBER: | |
WE CAN DO ANYTHING IN THIS METAL TOO!
We are noticing a real uptick in ALUMINUM orders for fabrication. Metfab Metals already had decades of experience working in this metal, as well as in all the common steels. That experience is critical in fulfilling the criteria in your Purchase Orders for common and sophisticated aluminum parts. We routinely make aluminum anchors for specific construction applications. But, of course, these Orders are unique to each job, per the architect's specifications.
To create the specified parts as you order them, several steps have to be followed. These range from ordering exactly the right aluminum alloy; choosing the method of cutting, drilling, serration of, milling etc the metals; selecting the welding methodology (e.g., MIG versus TIG); refining those welds; milling the metal bars to the dimensions set out in the specifications; finishing the fabricated parts; choosing a color for the finish; choosing, for example, anodized as opposed to alodine processing (unless the spec sets this in advance); specialty painting and powder coating these fabrications is also a viable option, per the job specs, and so much more.
Our chief welder at our Midland Park shop, Joe Carulli, has long years of aluminum experience that he brings to bear on challenging parts and in instructing our younger employees in this art on welding aluminum precisely, so as not to warp the parts with too much heat, a common issue. [Go to our much–revised website where we have listed all of the AWS certifications of our various welders, facts you often need to comply with the terms of your own contract with the Building Owner or the General Contractor. ]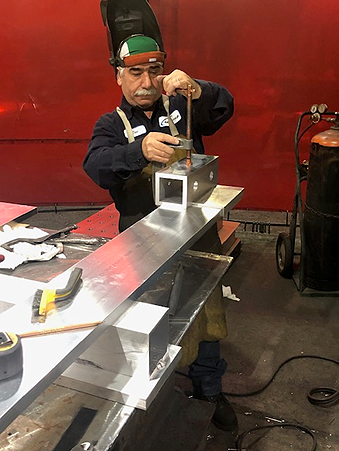 Our master welder, Joe Carulli, preparing an aluminum part for welding
In our Newsletter last December (2018), we recapped some of the general advancements we made last year; we emphasized some actions that improved our already-high quality products in jobs such as Retro-Fits, specifically. We showcased our additional Technology, Plasma Cutting and advanced Welder Certifications (again, now reported on our website).
But one of our skills that we did not cover was our specific expertise in the manufacture, fabrication, machining, welding and finishing of ALUMINUM, including anchors called for on many current major projects, very often by curtainwall customers. Everyone active in this industry knows the value of these services, especially as the proper welding of this metal can be vastly more challenging than welding mild, raw or even stainless steel. In coming weeks, we will distribute, by email and other electronic messages to you, information on various aspects of how we can help you with your aluminum needs. We will tell you more about our TIG and MIG welders with their myriad certifications( already listed on our website). We will show you how we manage the QC aspects of the milling and machining of raw aluminum into flawless aluminum parts; the marking, packing, carting, handling, and shipping of this lighter metal; as well as numerous other aspects of our entire light-weight metal division.
Metfab Metals has decades of experience producing all the various metal parts/assemblies that can help make YOUR jobs go smoothly from their earliest stages-----------------and end successfully! Call us; you'll soon see we produce.
Updates:
Hudson Yards, NYC, NY-----We have been working here throughout 2015, 2016, 2017 and 2018---and now into 2019.. This massive project built on a formerly-abandoned, in-city railroad car storage yard, in Midtown West Side, has required both the sophisticated and the mundane; everything from common steel and aluminum anchors to classic AESS solid steel mullions, very similar to the same huge pristine mullions we delivered to WTC4, now years ago as part of the Ground Zero restoration.. And there are at least two more years of building ahead. But we're ready for whatever is asked of us.
---
Call me for ALL your METALS questions. If I can't answer it,
I have all the needed "sources" to do so!
Jim Murray, C.O.O. 973-675-7676


---
We always offer to work with our customers from the job concept
stage to anticipate issues before fabrication, to suggest better ways
to order, extrude, cut, drill, paint, finish, even stage and deliver and
always to save time and money.
---