Metfab Metals, LLC
"53W53" Tops Out with our "Apex"
| | |
| --- | --- |
| MEMBER: | |
ANOTHER UNIQUE JOB DONE FOR ALL TO SEE FOR DECADES TO COME
In its February, 2019 issue of SkinTec, the electronic magazine of the huge curtainwall company Enclos, it dramatically set out on its cover a video of their topping out of 53 West 53rd Street in New York City. Here's how they explained it:
In mid-December, the highest piece of the enclosure capped Jean Nouvel's 53W53 skyscraper over Midtown. Enclos crews worked to safely fly the 42,000 lbs wedge-shaped mega-unit that forms Apex 1 to a height of 1,100 feet before lowering it to its final position at 1,050 feet, making it currently the 7th-tallest skyscraper under construction in New York City. 1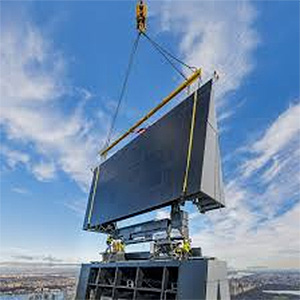 [Picture: Courtesy of Copyright Owner, New York YIMBY, LLC. Thank you.]
We here at Metfab Metals are proud to tell you that we were part of the team that produced this unique roof-top structure right here in our shop at Midland Park, New Jersey for delivery to the construction site just south of the world-famous Central Park of NYC. Can you imagine the views from there!!!! Indeed, you don't have to imagine them. Just go to the Enclos website (see footnote #2 below) and view their video posted there. 2
Metfab Metals did the initial fabrication of this "mega-unit" and shipped it to other contractors for finishing and outfitting with such capabilities as the mechanicals for raising and lowering the most sophisticated window cleaning equipment available. Look at the video and listen to its audio for the fascinating detail that went into, and onto, this chamber we made. We again were part of a "team" to help make possible this newest skyscraper in the Manhattan skyline.
Of course, we also work in decorative metal facades, entrances, mullions, varied super-structure anchors and storefronts (these are standard features of non-common retro-fit/retro-clad jobs in older areas of our cities) and other miscellaneous parts/assemblies for enclos, as well as many of the other large curtainwall companies.
This SkinTec article coincidentally also illustrated a huge job we finished a few years back in Washington, D.C. The article reported that the AIA gave its "2019 Honor Award" to the National Museum of African American History and Culture (NMAAHC), another project where Metfab Metals was part of the enclos team. This article reported:
One of the newest additions to the National Mall in Washington, DC is the much-celebrated Smithsonian National Museum of African American History and Culture. ……………. In addition, the American Institute of Architects named the NHAAHC the recipient for AIA's 2019 Institute Honor Awards for Architecture. A nine-member jury selects submissions by analyzing design achievement, place and purpose, ecology, environmental sustainability, and history.
Enclos provided design-assist services for the NMAAHC and were instrumental in finding the right material and finish to achieve the corona panels' desired look. The finished structure features 3,600 corona panels that consist of cast aluminum coated in a bronze-colored finish.
And then the article continued its description of this innovative facade:
The 10-story museum (five above and five below ground) includes 250,000 square feet of building envelope, primarily consisting of a multi-layered skin with a permeable filigree exterior of bronze-colored panels that were inspired by southern ironwork. …………………………
Overall, the 230-ton facade structure hangs down from the top of the building by a series of steel outriggers. The primary wall type consists of the following layers, starting at the exterior: corona panel, AESS support frames, AESS trusses vertically and horizontally, and glazed aluminum cassettes. The exterior steel imposed thermal performance challenges that were addressed by Enclos mechanical engineers' analysis and designers' integration of thermally broken details. The glazed aluminum cassettes' supporting steel on the exterior results in continuous glass planes facing the museum's interior space. The sloped glazed unit modules are 6'-2" wide and contain glass ranging from 10'-2" to 12'-3" tall.
Metfab Metals built the frames (some almost 80' in height) for NMAAHC, without a single non-conforming piece. So this article has reported two of the most noteworthy and striking projects this contractor (enclos) has done with us. This brief summation of observed trends tells you what we here at Metfab Metals can do---and have done---on cutting edge jobs featuring challenging fabrications. This was not surprising to us or to our owner, Jim Murray, as he has often remarked how our purchase orders very much reflect current trends in New York City and otherwise. To put it succinctly, the repeated plans and RFQ's we have seen in recent years focused on more innovative engineering, challenging creations, the incorporation of pre-fab systems (to meet compressed job schedules), unique custom designs, larger glass and steel panels, and surface finishes in striking colors.
In short, we view the entirety of this article and its video as a reflection of the growing amount of jobs involving such creative structures (in the form of unique trusses, mullions, curtainwall anchors and miscellaneous steel parts). That the construction industry is going in these directions, of course, requires the skills of a creative fabricator like Metfab Metals. We have planned for these developments and anticipated what we needed to do to meet these types of demands. We are already equipped and staffed to meet these demands. We are already current, computerized, communication-enabled, shop-ready and fully prepared to nimbly meet the 21st century industry demands we foresaw. This planning dovetails with your needs and your job specs no matter how innovative your customer's building initially appears. Together we can electronically receive your drawings and RFQ; return a full quotation sooner than any competitor; act promptly on your PO; obtain shop drawings; meet your fabrication challenges; promptly make your parts and assemblies quickly; fulfill all your QC, LEED and documentation requirements; and otherwise provide anything your specs call for.
Metfab Metals can again rightly say we have decades of experience and skills in all manner of fabricated metals (and all the needed technology to support these) so that we can help YOUR jobs go smoothly from its earliest stages-----------------and end successfully!
Call us; you'll soon see we produce.
Updates:
Hudson Yards, NYC, NY-----As we have said before, we have been working here throughout 2015, 2016, 2017, 2018, and now into at least 2019. After finishing our work on the most incredible concert venue, "The Shed", in fabricating AESS "pans" to hold the unique floor configuration for this megalith, we are continuing to work for a diversity of customers in this new "mini-city". We have been called upon to create sophisticated and ordinary metals fabrications, including common anchors, as well as classic AESS solid steel mullions. This is one project that called upon the whole spectrum of our skills.
---
Call me for ALL your METALS questions. If I can't answer it,
I have all the needed "sources" to do so!
Jim Murray, C.O.O. 973-675-7676


---
We always offer to work with our customers from the job concept
stage to anticipate issues before fabrication, to suggest better ways
to order, extrude, cut, drill, paint, finish, even stage and deliver and
always to save time and money.
---
[1] Excerpted from SkinTec, February, 2019, www.enclos.com/newsletter, issued 2/14/19
[2] Again at: SkinTec, February, 2019, www.enclos.com/newsletter