Metfab Metals, LLC
Did you hear of: "53W53"?
Metfab Metals Did This "Name" Project too!!!

Most real "New Yawkers" easily recognize the acronym "53W53" as just a short-hand way of saying (with cache') the building at 53 West 53rd Street, just west of Fifth Avenue, New York City. Real New Yorkers also know that the building is just south of the southern edge of her famous Central Park such that the upper floors have those ever-so-valuable views of the park itself and the unique museums and historic residences surrounding the park itself. When these museums were built, no one could have guessed that a single floor of any building ever to be built in NYC could be sold for more than One Hundred Million Dollars ($100,000,000). We wrote about this unique job in our recent March, 2019 Newsletter, but other comments are in order now. At that time we also posted the illustration below.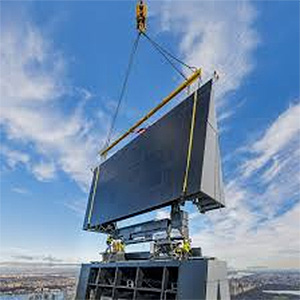 [Picture of apex of 53W53: Courtesy of Copyright Owner, New York YIMBY, LLC. Thank you.]
We here at Metfab Metals reminded you that our friends at Enclos installed this 42,000pound marvel of a design by Jean Nouvel (the frame of which we had fabricated) at a height of 1.050 feet over the Manhattan street below. Of course we point with pride in telling you that we were part of the team that produced this unique roof-top structure right here in our New Jersey shop, for delivery to the construction site just south of the world-famous Central Park of NYC. Can you imagine the views from there!!!! Indeed, you don't have to imagine them. Just go to the Enclos website (see footnote below) and view their posted video.1 Metfab Metals after the initial fabrication of this "mega-unit", shipped it to other contractors for finishing and outfitting with such capabilities as sophisticated mechanicals for window cleaning equipment available.
Of course, we also work in decorative metal facades, entrances, mullions, varied super-structure anchors and storefronts (these are standard features of edlectic retro-fit/retro-clad jobs in older areas of our cities) and miscellaneous parts/assemblies for Enclos, as well as many of the other large curtainwall companies.
This brief summation of observed trends tells you what we here at Metfab Metals can do---and have done---cutting edge jobs featuring challenging fabrications. This was not surprising to our owner, Jim Murray, as he has often remarked how our regular purchase orders reflect current trends in New York City and elsewhere. The repeated plans and RFQ's we have seen in recent years focus on more innovative engineering, challenging creations, the incorporation of pre-fab systems (to meet compressed job schedules), unique custom designs, larger glass and steel panels, and surface finishes in striking colors.
It is so routine now for us to work on monolithic, even megalithic, innovative jobs such the new World Trade Center; the National Museum of African American History & Culture ("NMAAHC").; and even right now, an eclectic, varied plethora of buildings at Hudson Yards, here in New York City. Indeed, it's not even mild surprising to receive creative, never-before seen designs, maybe at times even on a daily basis. Look at the finished product (pictured below) that we contributed to in Washington, D.C. that was a truly innovative way to enclose from the weather an outside courtyard to create usable square footage---and an area for office workers to relax at lunch or whenever.

[51 Louisiana, Washington, D.C---2008.]
So how do we here at Metfab Metals fit in to all of this? At base, we are journeymen making diverse parts all the time but they are largely just job-unique sizes, finishes and designs of varied parts. The crux for us, and for you our customers, is that we always make them really well, to individual engineered specs, and with ever-evolving fine finishes---and always service you by delivering them on time, in "installation condition" and within budget.
Metfab Metals again has decades of experience and skills in all stages of fabricated metals (and all the needed technology to support all your project's needs---speed, accuracy, accountability, flexibility) so that we can help YOUR jobs go smoothly from their earliest stages------and end successfully! Call us; you'll soon see we produce.
Updates:
One Vanderbilt, NYC, NY ---- Above are recent candid shots of the much-completed classic megalith immediately adjacent to the Beaux Arts classic Grand Central Station. We are now supplying AESS solid steel mullions for the lower, more easily visual floors with a real-time benefit to our customer. What is needed are perfectly finished mullions which we recently displayed for a final inspection by the entire Design Team at our local finisher This is the kind of built-in benefit very few fabricators can offer or do offer. We can---and do---this kind of sophisticated work on a daily—often expedited---basis. TRY US!!!!
---
1. Again at: SkinTec, February, 2019, www.enclos.com/newsletter
---
Call me with ALL your METALS questions. If I can't answer it,
I have all the needed "sources" to do so!
Jim Murray, C.O.O. 973-675-7676


---
We always offer to work with our customers from the job concept
stage to anticipate issues before fabrication, to suggest better ways
to order, extrude, cut, drill, paint, finish, even stage and deliver and
always to save time and money.
---
We are-----METFAB!!!!!!
---