Metfab Metals, LLC
Did you hear?: Metfab Metals Has Current Available Capacity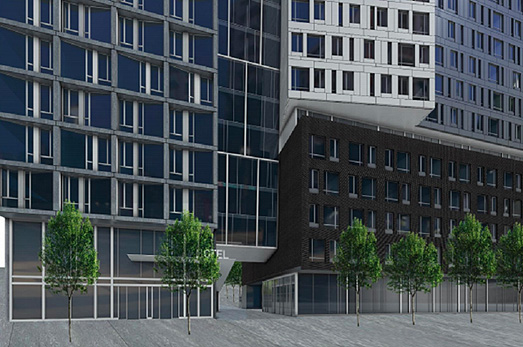 Courtesy of the Jersey City Redevelopment Agency. Thank you.
Most people viewing the above rendering would imagine this to be projected buildings in Manhattan or perhaps Brooklyn, if not Boston or Washington, DC. But it's not. It's Jersey City, NJ. It's not even on the Gold Coast along the Hudson River, but rather at the burgeoning Journal Square center of the city itself. This is a proposed mixed-use hotel/residential high-rise. Already a huge new tower stands nearby with two more planned adjacently by the Kushner Companies. These are promised by 2024---only 5 years away.
And we here at Metfab Metals are less then 5 miles from this site. WE, of course, have supplied fabricated steel and AESS for the last 5-6 years to Hudson Yards in Manhattan for similar projected structures. We can do this for you too. We are supplying our products for projects like this right now (and, of course, for smaller jobs too). Last year, we circulated a written infomercial about our still-available capacity to help you----we still have more of that capacity---and more. And we can deliver on an emergency or "as needed" basis.
In recent months & years, we have worked on mega-jobs such the National Museum of African American History & Culture ("NMAAHC"); the new World Trade Center; and even, most recently (including right now), many buildings at Hudson Yards. What we want all of you to not forget and be aware of is that we can still do more for you---and right now.
Indeed, our message here can be summed up in TWO words:
(1) CAPACITY & (2) CAPABILITIES.
We are at present working on several major jobs as well as our daily work, but we still have additional capacity, as well as our decades of experience and unique skills/expertise to EXPEDITE. We have been expanding since 2013, as to our physical plants and equipment, as well as technology so that we could be PREPARED for the beginning of the work-flow we have now seen/finished. In short, we are READY for whatever you, our customers, need in metal fabrication & related fields.
It's all about opportunity and preparation. Our owner, Jim, says: "We control the latter; our customers control the former." In other words, YOU control the former---our opportunities to work on your jobs. Let me give you a better sense of our "preparation" to meet the growing demand we anticipated and planned for.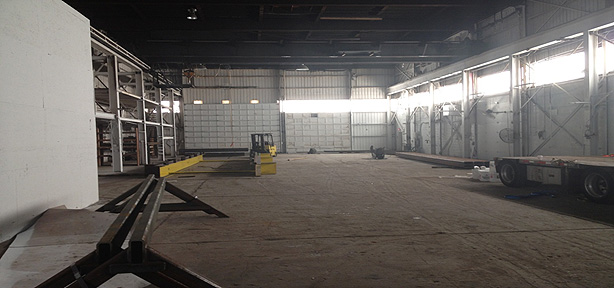 [Our Major Fabrication Shop #2, as it was before we improved it considerably. When we took possession of this shop, we knew we'd have more capacity than needed, but we wanted to be ready to handle all your needs. Call us NOW. Make an appointment. Come see it as it is now fully outfitted for production.]
Our "preparation" included:
. We expanded our facilities, adding the 10,000 sf. shop;
2. We expanded our storage capacity (both inside and outside) to well beyond any demand you may have to erect a VMU, hold finished product or simply store tools & equipment;
3. We expanded our equipment, adding better welding equipment, new ironworkers, light-gauge machinery, a 30-ton crane & new forklifts---and more;
4. We expanded our technology, upgrading our quotation processes, improving our QC/QA tracking, introducing better transparency, adding 3-D CAD capacity for more user-friendly drawings----and more;
5. We expanded our staff, adding an engineering intern, adding two QC/QA inspectors, adding experienced welders, adding bi-lingual Spanish-language fluency to our staff---and more;
6. And we added more high-grade experience/training and certifications (e.g., all AWS-certified welders) for all our supervisors, management and shop personnel; (see these certifications listed on our website.)
A few years back, we published online an info statement outlining what we "bring to the table" to satisfy all your fabrication needs. Here's a brief excerpt from that:
What you most often need from your fabricator throughout the contract and construction periods are: "Capabilities" to get what you need when you need it. Now we all know that a construction job starts (or should start) with approved Plans or Project Drawings. ………………………………
Initially, the Design Team, led by the Project Architect, the Project Engineer, other job experts, all answering to the Owner give the General Contractor what they expect him/her to build. As a matter of good planning, the same GC always asks the team to bring all his/her subs in as much as possible at a very early stage, as they can help avoid practical mistakes, built-in conflicts in designs, even the mistaken use of products that simply don't exist, all ultimately to save money, delay, missed deadlines, change orders and budget overruns. That "coordination" and "transparency" are needed in large doses should be obvious.
*************************************************************************************
Call us; you'll soon see we produce.
We are-----METFAB!!!!!!
Here at Metfab Metals we don't call success (ours---or yours) "luck"! It is the result of long-term planning, experience, training, paid-for assets, talented personnel, and more, all adding up to prudent "preparation". Just continue to give us your job "opportunities" and together with our "preparation", we all will be truly "LUCKY" and all your projects will succeed, on time, every time!
---
Call me for Anytime; With Any Metal Issue.
Call me SOON!
Jim Murray, C.O.O. 973-675-7676


---