Metfab Metals, LLC
Metfab Metals Still Makes the Best AESS
Mullions, Trusses, Anchors, and More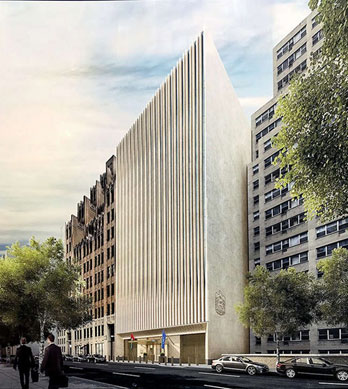 [Rendering of UAE Building NYC, courtesy of YIMBY, Sept. 2, 2019.]
The above building is emblematic of the TYPE of work we do daily. Our customer brought us in to supply the specialty steel they contracted for this foreign mission, Also, just twenty (20) blocks away in Midtown Manhattan, we are supplying more of our specialty, AESS ("Architecturally Exposed Structural Steel") mullions, trusses, and miscellaneous metals for a similarly-innovative building. Indeed, still standing in our yard is a 3-storey VMU ("Visual Mock-Up") for this 66th Street mixed-use high-rise.
Now a brief explanation of what's involved in such finely finished steel members. To get what you need and NOT go over budget needlessly, clear specifications are essential---and can save real money by not unwittingly requiring an upgraded finish beyond that planned by the Design Team. (We can help with this aspect of the job too!)
Specifying truly highly finished steel, (e.g.,category #4 AESS) requires specs such as follows:
AESS 4: SHOWCASE ELEMENTS. The sculptural nature of steel is meant to be the main focus when specifying AESS 4. This category draws inspiration from the expression of form as the featured aesthetic in a project. Making material connections appear seamless in a project can sometimes be the most challenging ones to design and construct. The latter is also true of structure, especially when AESS is to have a very smooth and sleek finished appearance. It is generally understood that AESS 4 components may entail the highest premium over the previous categories, not only per the desired "glove-smooth" finish, but more often due to the complexity of structural geometry. The design approach should be discussed between the architect and structural engineer in advance of selecting the AESS category. The characteristics of the previous categories, AESS 1, 2 and 3, are all included with the selection of AESS 4. In AESS 3, it is acceptable to reduce the visibility of weld seams. The glove- smooth finish desired for showcase elements in AESS 4 necessitates that weld seams are no longer visible. Certain structural steel shapes and sections, such as pipe or some types of HSS, lend themselves to having few or no seams. If at all possible, turn the seam away from view for the most cost-effective strategy. The smooth and contoured appearance of welds enhances the style of the more plastic look of AESS 4 components. [See AISC categories of AESS finishes.]
The above can get very labor-intensive and thus costly. In this regard, we here at Metfab Metals have long adhered to "full disclosure", detailed specificity and clarity so the the specs express exactly what the Design Team---and Owner---define the exact AESS elements they require----and not needlessly more! We insist on this and have fully implemented, consistent policies that allow us to work smoothly on such demanding production, with our established customer base, as well as new customers. We start by integrating our computerized operations with the customer to the degree their specs mandate and their systems allow. This seamless exchange of information and work-flow with all customers and sub-contractors is a constant goal always at Metfab Metals!!!
We are "nimble" in our communications so that we are able to rapidly meet the evolving needs of our customers, promptly and accurately. We prove this every daily with emergency delivery of sample parts to aid in exactly meeting strict specs as well as construction schedules.
Our brief summation here is but a "passing glance" at all we have done---and wait anxiously to do for you also. These are the FACTS about the experience and capabilities of Metfab Metals and what we have done on cutting edge jobs, all over NYC, the USA and beyond, including many challenging fabrications. WE have read a stream of plans and RFQ's in recent months and years featuring innovative engineering, challenging creations, the incorporation of pre-fab systems (to meet compressed job schedules), unique custom designs, larger glass and steel panels, and surface finishes in striking colors. AESS steel is a common element in all of these jobs now under construction.
It is routine now for us to work on monolithic, even megalithic, innovative jobs on a daily basis. The new World Trade Center; the National Museum of African American History & Culture ("NMAAHC"), and all the edifices at Hudson Yards, here in New York City are just the most visible examples. Creative, never-before seen designs have reached the level of the commonplace. We see these every day. Call us; we'll show you how this can be done on your jobs too.
So where does Metfab Metals fit in FOR YOU? Answer: Every time your next job calls for specialty steel, especially AESS. We can fulfill all your steel needs! The point to remember is that we always make the steel detailed as designed, to individual engineered specs, and with ever-evolving fine finishes---and always service you by delivering them on time, in "installation condition" and within budget. Indeed, when we delivered the AESS work below recently, we did so in custom "bunks" which allowed the installer to keep them pristine as delivered until they were actually installed.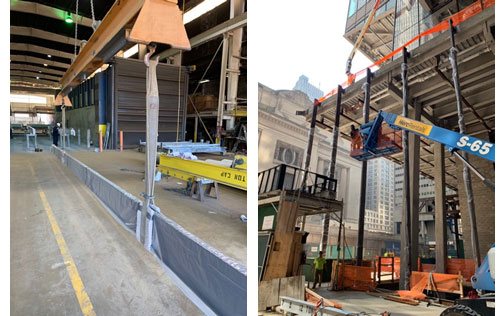 [Another huge solid steel AESS mullion, packaged, protected & ready for recent shipment,
followed by an "installed" picture of the first 10 mullions in a project identified as One Vanderbilt, NYC.]
Metfab Metals again has decades of experience and skills in all stages of fabricated metals (and all the needed technology to support all your project's needs---speed, accuracy, transparency, accountability, flexibility) so that we can help YOUR jobs go smoothly from their earliest stages------and end successfully! Call us; you'll soon see we produce.
Updates: One Vanderbilt, NYC, NY ----Again we are delivering a series of finely finished AESS mullions for this building's lobby in late September. This is just the specialty kind of work we here at Metfab Metals do expertly. We are working smoothly here again with W & W Glass of Nanuet, NY. The huge mullion (pictured above) is one of many we are supplying as part of the W & W's team to create the magnificent lobby of this sparkling new building adjacent to the historic Grand Central Station. No one can match our quality---and PERFORMANCE. We do this kind of sophisticated work on a daily—often expedited---basis. TRY US!!!! [Look more about this at our website]. After 10 of these were installed without hitch in TWO DAYS, our client emailed us one the best compliments we could hope for, "When the fabrication is good, installation is easy."
---
Call me with ALL your METALS questions. If I can't answer it,
I have all the needed "sources" to do so!
Jim Murray, C.O.O. 973-675-7676


---
We always offer to work with our customers from the job concept
stage to anticipate issues before fabrication, to suggest better ways
to order, extrude, cut, drill, paint, finish, even stage and deliver and
always to save time and money.
---
We are-----METFAB!!!!!!
---