Metfab Metals, LLC
AESS---Don't Overlook Us! We've Produced AESS
Since the 1990's Fabricated, Finished to your Spec
| | |
| --- | --- |
| MEMBER: | |
WE CAN DO ANYTHING IN AESS --- from solid steel mullions to miscellaneous parts TOO!
We dedicated a whole section of our revised website to this process. In part, we reported the start of this expertise as follows:
We here at Metfab Metals first did a major AESS job in the mid-1990's at the BWI International Airport [Now BWI Thurgood Marshall Airport] outside Baltimore, Maryland.

Since then, we have become highly sophisticated at such specialty AESS work on many small to medium-sized projects, as well as several high-profile jobs, such as New York City's new World Trade Center, the National Museum of African American History & Culture ("NMAAHC") in Washington, DC and the expanded VCU Medical School in Richmond. Our COO & founder, Jim Murray, has been an integral part of many early AESS projects in the New York City area, as well as around this country. At BWI Thurgood Marshall Airport , even today you can yet see the structural steel space frame (at the ceiling level) with its threads, pipes and connections in plain view-------- and still shining in its original fabricated & installed condition two decades after erection!...
Since these reported jobs, we have seen a real increase in the use of these products for aesthetic and structural reasons, often as an integral part of the architect's design. We have done jobs in the past year in Jersey City, Manhattan & Brooklyn as well as other venues across the country. [See more details on this section of our website.]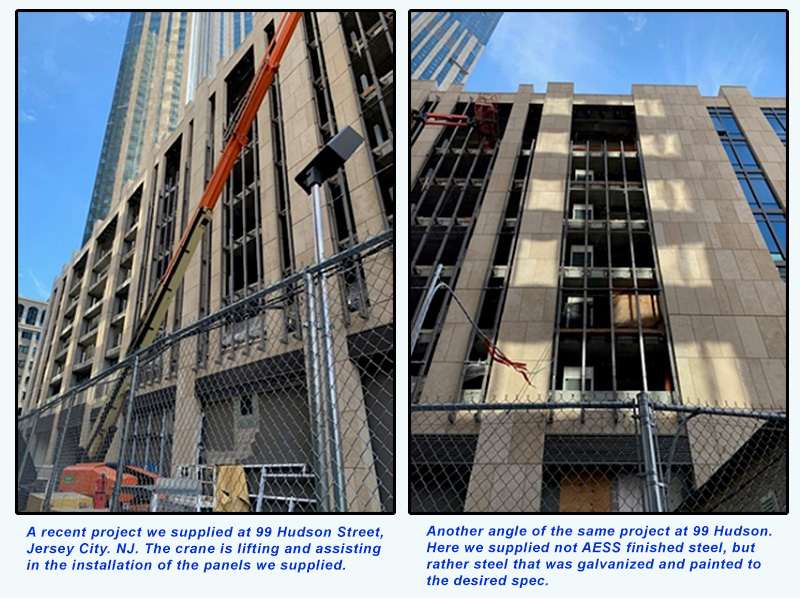 We also summed up the final aspect of our skills at AESS work on our website as follows:
Too often lost in this morass of issues is the one that can break all erection timelines and the one we always insist on focusing the design team to: delivery. Actually this is not a single issue. To put it as briefly as we can here in this space, just look again at what AESS is: "finely-finished steel members (prepped, welded, filled, blasted, polished, and/or uniquely painted/finished) to be permanently open to the view and touch of all….." To say this requires special handling from A to Z is to understate it greatly and, candidly, to misstate the actuality. Each AESS part must be moved, wrapped, secured, and prepared for delivery in a most careful way so that the pristine "fabrication with spec'd finish" that leaves our shop is the one that stands at the often-remote jobsite after erection. On this issue alone, there is simply no substitute for experience. Our experience on any of these issues is why Metfab Metals is your best choice for AESS.………………………………………………………………………………………
Don't forget that Jim Murray always offers you his personal AESS expertise FREE to you—new customer or an established one--- at the job concept stage to anticipate issues before fabrication, to suggest better ways to order, extrude, cut, drill, paint, finish, even stage and deliver and always to save time and money. For further illustrations of the range of AESS work we have done, look at the various pages of this website. (Our archived 10+ years of Newsletters also often illustrate this).
In short, call Jim and all of us here at Metfab Metals for anything you need---or anything you need to KNOW about AESS. We're the experienced AESS experts from Job concept to final delivery.
Updates:
Hudson Yards, NYC, NY-----We started working here in 2015! WE have fashioned the entire spectrum of unique steel throughout 2015, 2016, 2017, 2018, 2019. And now into 2020. This monumental project has required both the sophisticated and the mundane; everything from common steel and aluminum anchors to classic AESS solid steel mullions, just as we did years earlier at WTC4, part of the Ground Zero restoration..Metfab Metals is always ready for whatever you need.
99 Hudson, Jersey City, NJ -----We have finished our contract with our long-term customer, GAMMA USA, Inc., for fabricated steel for the multi-story garage. We supplied various metal fabrications, including common anchors, as well as classically designed metal panels for this parking ramp, finished as specified by the process of HDG (Hot Dipped Galvanized) and then painted to produce a long-lasting finish, not AESS but plainly aesthetically pleasing. Then we fabricated and delivered, without a glitch, this support steel for the designed stainless-steel protective mesh on the parking garage. The project is now a great example of the whole spectrum of our skills and products. [The 2 pictures above are from this job as it was being finished with our fabrications.]
---
Metfab Metals now has decades of experience making AESS
parts/assemblies that can help make YOUR jobs go smoothly from its
earliest stages.......... and end successfully!
Call us; you'll see we produce
---
Call me for ALL your METALS questions. If I can't answer it,
I have all the needed "sources" to do so!
Jim Murray, C.O.O. 973-675-7676


---
We always offer to work with our customers from the job concept
stage to anticipate issues before fabrication, to suggest better ways
to order, extrude, cut, drill, paint, finish, even stage and deliver and
always to save time and money.
---