Metfab Metals, LLC
We Are known for AESS, But We Make High Quality "Miscellaneous Metals" Too!
| | |
| --- | --- |
| MEMBER: | |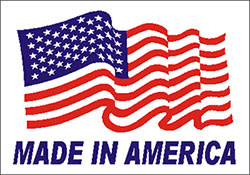 a Trip Carts,
a Picking Booms,
a Ship Tables & Cribs,
a Gantries,
a Lifting Bridles,
a Extrusion Racks,
a Working Platforms,
a Tool Bins,
a Tool & Die Work,
a VMU Steel Fabrication,
a Miscellaneous Steel Parts, Etc.
Three years ago in February, 2017 we reminded all of you that we don't just make our signature product, AESS1 , we have always made miscellaneous metals to such an extent that this category was once a mainstay of our overall production. Put simply, "we do the nitty-gritty fabrications that make your jobs work----and installations so much easier."
We can't illustrate all the products this term covers, but here's one we've made many times.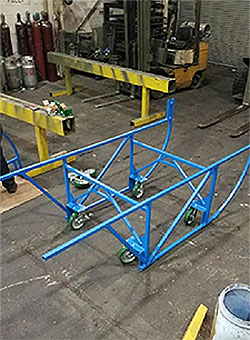 [One of our Trip Carts]
These parts and devices fill niches in your job or simply facilitate the smoother, more efficient installation of our parts or those of others.
As we said three years ago, "you've all ordered one or more of these (or similar devices) many times, often as you were in the middle of an ongoing site installation---and realized their need, even essentiality! Innovative new projects often require the above, as they help expedite the whole process and work schedule…….Sometimes even just common sense requires it, as your job doesn't have the lead time to order overseas, or the budget to do so or you just have last-minute "fill in" needs to finish a job. Or you forgot a series of parts/assemblies needed NOW! We can always help." We make small, emergency deliveries all the time
No order is too small; none too large; none too difficult; none too challenging. Call us; you'll soon see we produce.
As jobs have become more sophisticated, with more unique parts and assemblies and ever-tighter staging areas, we here at Metfab Metals can help you to not only equip you to execute such projects, but we can also advise you how our work and experience can help you get the overall work done with less space, effort and frustration. Call us, you'll see. Few metal fabricators have more expertise and more focused experience than Metfab Metals on such needs. Sometimes we even call ourselves not primarily a fabricator, but rather a service company that fabricates your needs to "service you better." Our service not only means "we speed what you need" to your jobsite; it means we can improvise and implement as your needs arise with whatever will make your job go smoother, faster & on-time.
Metfab Metals has decades of experience making all the metal devices, equipment, racks, platforms, and parts/assemblies needed for
YOUR complex and unique job that can serve to make them go smoothly from its earliest stages------------and end successfully!

Our All-American service is as good as our metals! And all we make is "MADE IN AMERICA"
---
Call me for ALL your METALS questions. If I can't answer it,
I have all the needed "sources" to do so!
Jim Murray, C.O.O. 973-675-7676


---