Metfab Metals, LLC
"EMBEDS"

| | |
| --- | --- |
| MEMBER: | |
HERE'S HOW ARE WE HANDLING THIS PANDEMIC?
Always recall that "out of all ills comes some good."

Last April in our Newsletter we talked at length about our extensive work at "the country's largest-ever private real estate project": Hudson Yards, in New York City as a new "city within a city".
Now we look even more soberly at that great City itself, largely paralyzed by a puzzling virus and a Governor's order to keep "social distancing", a term unimaginable just last year. No one alive will ever forget the word "Coronavirus" now but our scientists are working on this plague & a return to normal is hoped for as soon as possible.
We are affected like every other business in the country now. But we still are functioning, largely due to years of investing in technology that allows us to operate remotely. While we are remanded to home and largely remote functioning, we are prepared for this. When restrictions are lifted, we will proceed to "catch up" at warp speed. In the meanwhile, we are going forward electronically & telephonically now. We are fulfilling orders even yet through outsources and other means even now. So send us your RFQ's and even preliminary specs so we can now quote what you'll need fabricated. Don't hesitate to email me with questions and any issues you need answered, as always.
But look at two of the entries from last April's Newsletter (2019) what we here at Metfab Metals contributed to mega- Hudson Yards over the last five (5) years (and still going, even now):
15 Hudson Yards


Penthouse Curved AESS Steel; Tube Steel Embeds; Steel for
Storefront; "Light-post" Brackets at Roof; Panels for Aesthetic Stone at Podium
Penthouse is viewable on

project website




30 Hudson Yards
Embeds for Curtainwall
Not viewable as they are encased in walls

Metfab Metals did a whole array of unique fabrications for this "mega-project" and shipped them to the installing contractors at this huge jobsite. We again were part of a "team" that made possible these newest additions to the New York City skyline. Again right here in our shops at Orange, West Orange and Midland Park, New Jersey we fulfill order after order there, piece by piece. We made the embeds that the documents called for and delivered them on time.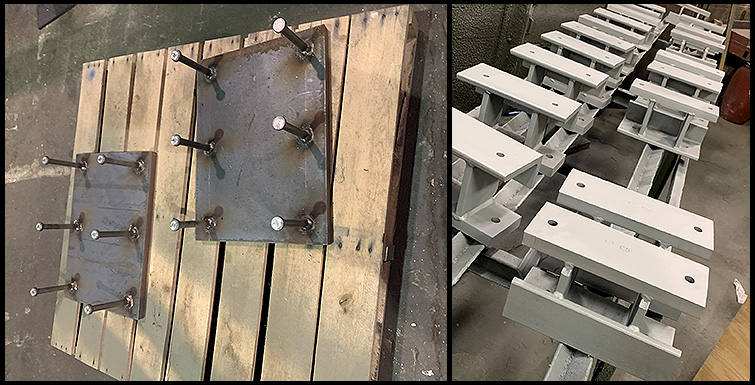 Pictured above are two orders ready for shipment to Jobsites in April, 2020 -
Headed Anchor Stud Embed & Pre-Cast Concrete Embeds.
Of course, Metfab Metals also works less monumental jobs, like yours every day, creating decorative metal facades, entrances, mullions, varied super-structure anchors and storefront support steel (often standard features of retro-fit/retro-clad jobs in older areas of our cities), embeds and other miscellaneous parts/assemblies for contractors, subcontractors and many of the largest curtainwall companies in the world. [Peruse our website for more details. ]

Metfab Metals can do---and has done---cutting edge jobs featuring challenging fabrications. Our owner, Jim Murray, has often remarked how our purchase orders very much reflect current trends in New York and beyond, up and down the East Coast and out across this country. To put it succinctly, the plans and RFQ's we have seen in recent years focus on more innovative engineering, challenging creations, the incorporation of pre-fab systems (to meet compressed job schedules), unique custom designs, larger glass and steel panels, and surface finishes in striking colors. This is often true of large and small jobs alike. Make us part of your "team". We can (even in this time of virus crisis) electronically receive your drawings and RFQ; return a full quotation sooner than any competitor; act promptly on your PO; obtain shop drawings; meet your fabrication challenges; promptly make your parts and assemblies quickly; fulfill all your QC, LEED and documentation requirements; and otherwise provide anything your specs call for.
Metfab Metals can again rightly say that we have decades of experience and skills in all manner of fabricated metals
(and all the needed technology to support these) so that we can help YOUR jobs go smoothly from
its earliest stages------------and end successfully!
Call us; you'll soon see we produce.
UPDATES: ONE VANDERBILT ----- Our work here is done. We suppled classic AESS solid steel mullions, as well as AESS metals fabrications, common anchors, embeds and more. This is one project that called upon the whole spectrum of our skills. We did NOT disappoint. Another important job done and approved.
---
Call me for ALL your METALS questions. If I can't answer it,
I have all the needed "sources" to do so!
Jim Murray, C.O.O. 973-675-7676


---