Metfab Metals, LLC



"RETRO Engineering Advances"

| | |
| --- | --- |
| MEMBER: | |
HERE'S HOW ARE WE HANDLING THIS PANDEMIC??
Right now as we look ever so much more soberly at great cities like NYC, Boston, LA, Houston, Miami, all largely paralyzed by this puzzling & socially disabling virus and so many Governor's orders to keep "social distancing", a term unimaginable just last year. No one alive will ever forget the word "Coronavirus" but our scientists are working on this plague & a return to normal is hoped for very soon.
We are affected like every other business in the country now. But we still are functioning, largely due to years of investing in technology that allows us to operate remotely. While we are remanded to home, we are prepared for this. When restrictions are lifted, we will proceed to "catch up" at warp speed. In the meanwhile, we are going forward electronically & telephonically now. We are fulfilling orders even yet through outsources and other means. So send us your final Plans & Specs, your RFQ's and even preliminary specs so we can quote what you need fabricated-----and get it to you when you need it. We WILL get through this national calamity and emergency and continue to do business with all of you. We will together find much "good" come for this national emergency!
Don't hesitate to email me with questions and any issues you need answered, as always.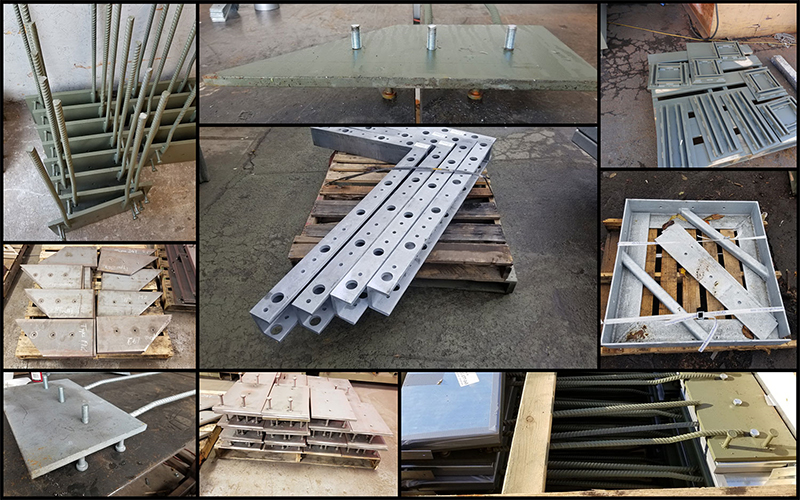 [Miscellaneous anchors, plates, stud,etc...for RETRO projects]
But every setback is an opportunity in disguise. That's the way we here at Metfab Metals choose to look at this. So we review, examine, analyze and always to move forward. But we are not alone in such quests. Look at what we read just this month in MODERN STEEL CONSTRUCTION: "A Real Look at Your Job Site". This concept largely dealt with retro-fit sites. And we have done lots of retro jobs. These jobs are particularly sensitive to pre-construction drawings and their accuracy---or non-accuracy! This article increased our knowledge on this topic and further strengthened our ability to help at the job-planning stage. It updated how engineers & architects can better study the existing building to better plan to rehab what is found after the building is stripped to its starting point. This is called "Reality Capture." The article outlines pre-construction planning strategies that can help you and my company to make better parts to make for a smoother, less costly time of rehabilitation.
"So what is reality capture? It's all about capturing the best, most accurate data, about real-world conditions----for our purposes on a steel-framed building…..,especially one involving structural rehabilitation. Reality capture is led by three technologies that excel at providing high-quality, complete data from a site: laser scanning 360 (degree)photography and drone photogrammetry. Capture is the key word here, as all three allow sites to be captured, not drawn or interpreted. Compare this with typical owner drawings or site surveys that often do not tell the whole story of twisted steel, out-of-plumb walls, and un-level floors that may lurk unknown and undocumented on job sites." 1
These technologies now allow the owner to come to contractors like us with actual pictures of the real conditions to be addressed. This makes errors and non-conforming parts far less likely. They reduce budget mistakes/ost overruns, making it an easier job for all involved.
Metfab Metals works for all our customers, large, small and medium-sized businesses, on projects of all scopes, like yours every day, creating decorative metal facades, entrances, mullions, varied super-structure anchors and storefront support steel (often standard features of retro-fit/retro-clad jobs in older areas of our cities), embeds and other miscellaneous parts/assemblies for contractors, subcontractors and many of the largest curtainwall companies. And everything we make is made right here in the USA---America.

Metfab Metals has done cutting edge jobs featuring challenging fabrications. Our owner, Jim Murray, has often remarked how our purchase orders very much reflect current trends in New York and beyond, up and down the East Coast and out across this country. To put it succinctly, the plans and RFQ's we have seen in recent years focus on more innovative engineering, challenging creations, the incorporation of pre-fab systems (to meet compressed job schedules), unique custom designs, larger glass and steel panels, and surface finishes in striking colors, for large and small jobs alike. Make us part of your "team". We can (even in this time of virus crisis) electronically receive your drawings and RFQ; return a full quotation sooner than any competitor; act promptly on your PO; obtain shop drawings; meet your fabrication challenges; promptly make your parts and assemblies; fulfill all your QC & LEED documentation requirements;& otherwise provide anything your specs call for.
Metfab Metals can again rightly say that we have decades of experience and skills in all manner of fabricated metals
(and all the needed technology to support these) so that we can help YOUR jobs go smoothly from
its earliest stages------------and end successfully!
Call us; you'll soon see we produce.
1 Modern Steel Construction, April 2020, "A Real Look at Your Job Site" at p.50.
---
Call me for ALL your METALS questions. If I can't answer it,
I have all the needed "sources" to do so!
Jim Murray, C.O.O. 973-675-7676


---
We always offer to work with our customers from the job concept stage to anticipate issues before
fabrication, to suggest better ways to order, extrude, cut, drill, paint, finish, even stage
and deliver and always to save time and money
---