Metfab Metals, LLC

| | |
| --- | --- |
| MEMBER: | |
"NEW PROCESSES COMING TO METFAB METALS"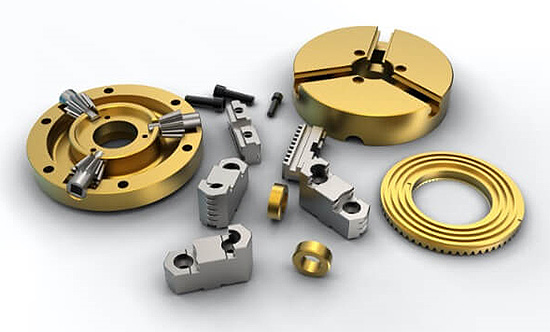 [Miscellaneous parts made by 3-D printing or "Additive Manufacturing"]
In recent months, we have talked of the restoration of our 83-year old classic steel delivery truck, and even of using it to make small deliveries. Keep an eye out for this classic. Our restoration of this almost century-old workhorse can be seen as contrasting the last dozen years of our company's progress in technology and serving you better since Jim bought this actual steel delivery classic.
We also reported Metfab Metals has made monumental progress in implementing MUCH MORE MODERN 21st century programming and electronics to support the production of precision metal parts and, in turn, close communication with all our customers.
"This was only possible because our owner, Jim, re-invested hard-earned dollars into updating technology in the 2000's. This includes our proprietary Quotation Program, unique in our industry, that can get out a quote in less than 24 hours on most jobs. In short, you ask us to quote your next job and we can expedite it, while never delaying your bid or your response to the owner. Then we track our jobs, your P.O.'s and professionally manage your projects as to our aspects of your contractual agreements. Try us, you'll see." 1
Metfab Metals uses this 2020 technology to the benefit of all of you, our customers, large & small as well as many medium-sized businesses, to produce the same expedition and fidelity to the pre-engineered drawings. This always applies to projects of all scopes, but a current job in Manhattan (NYC, not Kansas) has hefted our resume' for making the now-fashionable "glass shoes" 2 that make feasible high-rise viewing platforms, surrounds and restraints, often hundreds or even thousands of feet above the bustling streets below. At the same time, we want to remind all of you that our signature product has been…… AESS fabrications of all types as we supplied to such…. jobs as the National Museum of African American History & Culture ("NMAAHC") in Washington, DC, Hudson Yards ("HY") in NYC and The 9/11 Memorial Pools and WTC4 at Ground Zero in NYC.
And everything we make, supply or sell is made right here in the USA---America, unlike the above railing from a foreign country."
But we have another message today---We here at Metfab Metals are ready to deploy the coming technologies of this 21st Century in the near future. We have already "hit the ground running", making all kinds of specialty fabrications here in the USA, with tried and true technologies! But we also were fast accumulating real expertise in "shoe-making" for glass enclosures and railings. Now we are on the cusp of "Additive Manufacturing" (see illustrations above) with all the design flexibilities it offers.
---
Call us, come in and see all we can do for you and your jobs. Take advantage of all our great services and quality fabrications that we can provide now, better than ever! So, faithful customers, SEND IT IN! We will turn around your orders faster than ever! And always accurately and as drawn.
---
Metfab Metals has done cutting edge jobs, as Jim Murray has often remarked how our purchase orders very much reflect current trends in New York and beyond. We can fulfill all your QC & LEED documentation requirements; & otherwise provide anything your specs call for. Metfab Metals can again rightly say that we have decades of experience and skills in all truly specialty fabrications (and all the needed technology) so that we can help YOUR jobs go smoothly from its earliest stages----------and end successfully!
---
Call me for ALL your METALS questions. If I can't answer it,
I have all the needed "sources" to do so!
Jim Murray, C.O.O. 973-675-7676


---
We always offer to work with our customers from the job concept stage to anticipate issues before
fabrication, to suggest better ways to order, extrude, cut, drill, paint, finish, even stage
and deliver and always to save time and money
---
[1] See our September, 2020 Newsletter.
[2] The kind of "shoe" that makes upper floors' safety the priority while also accommodating the clearest view that the engineer can approve or the architect can design….. The "foot" that goes into this shoe is pre-engineered glass sheets (in lieu of a non-transparent steel or solid medium) that allows people to view all that surrounds them. Our shoes assemble into a continuous deep-set "track" which, rising solely from the floor grade, hold securely in place glass panels that, in turn, assemble into a transparent "fence" or rail that surround balconies, staircases and the like.
---