Metfab Metals, LLC


| | |
| --- | --- |
| MEMBER: | |
Happy New Year, Good Health & an End to COVID-19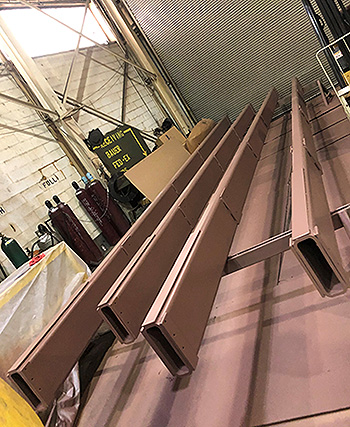 [Another load of custom mullion reinforcements, ready for shipment]

This is usually the time of year when most of us make resolutions to do better things in the New Year! Many of those "commitments" are soon put aside. But this year is different---so very different! The direct reason is an invisible virus most of us never heard of before 2020----COVID-19. 2020 has been called a "year unlike any other year". But our company's annual resolution to do things better and more efficiently will not be put aside. Everyone of us here is committed to it: WE ALL ARE!
So what is this Metfab Metals resolve now in 2021----simply to do MORE and better, notwithstanding the continuing vigilance that the pandemic requires. Our staff knows that masks are just part of life now, both for one's own sake and that of your colleagues, co-workers and customers. We also have learned social distancing, are hoping the new vaccines relieve and protect us and yearn to operate even better after things return to a new "normal".
But our goal for this year, 2021, is essentially what has always been our goal. More sales; more great projects; more good work for you, our customers (whether you have been a customer for decades---as many are—or you are just trying our announced skills), ever-expanding expertise, and always innovative ideas! In this past year, we, like you, were initially hurt by the pandemic, but we made the necessary adjustments to get our purchasing, office functions, production, shipping and customer contacts safe, yet efficient for everyone.

Here's a brief "window" into Metfab Metals' continuing capacities, recent advances and the systems we use daily to timely and accurately deliver even on the most detailed, demanding projects and specs-----on your jobs, large and small alike!
In past Newsletters we have stressed some truly unique AESS1 jobs we have done, such as the award-winning National Museum of African American History & Culture in Washington, DC. Yet still we do the routine, every-day metal fabrication (embedments, trusses, mullion reinforcements)—and welcome your orders for this work. Metfab Metals has been making small and large AESS parts for more than two (2) decades now, but this growing art form has now expanded into ever more uses and applications. What we also have right now is the capacity and staff to handle even more for you. Let me tell you how: we have a huge production shop, new equipment and experienced staff----all to make better parts, better buildings and better records of how we did it all.
In this way, Metfab Metals has shown throughout the recent contractions and gyrations of our industry that we are "team players" who want to be part of your regular building team, even the design team, of YOUR jobs so that together we can anticipate for you potential production snafu's, evolving site conditions and erection issues so every day we can smoothly deliver precision products to become integral parts of truly memorable and lasting buildings------and do it all timely, with minimal or no change orders.
Metfab Metals has decades of experience making custom metal parts and making YOUR jobs go smoothly and end successfully! Call us; you'll soon see what we have written here is what happens there.
---
1. AESS, or Architecturally Exposed Structural Steel, is what we have now defined many (to some of you regular readers TOO MANY) times as finely -finished steel members (prepped, welded, filled, blasted, polished, and/or uniquely painted/finished) to be permanently open to the view and touch of all after the job is done. AESS work is never covered by sheetrock or otherwise hidden from public view.
---
Call me for ALL your METALS questions. If I can't answer it,
I have all the needed "sources" to do so!
Jim Murray, C.O.O. 973-675-7676


---
We always offer to work with our customers from the job concept stage to anticipate issues before
fabrication, to suggest better ways to order, extrude, cut, drill, paint, finish, even stage
and deliver and always to save time and money
---