Metfab Metals, LLC


| | |
| --- | --- |
| MEMBER: | |
Retro-Fit & Retro-Clad Update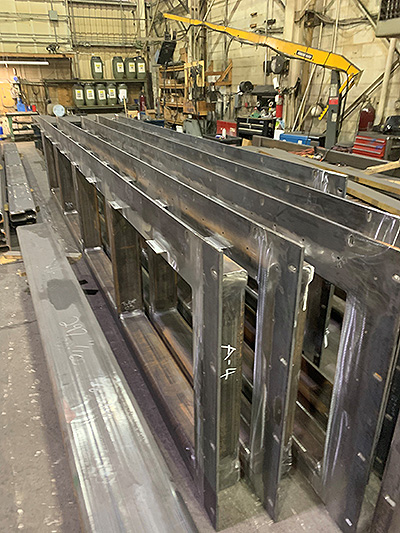 [More Custom Frames Rready for Shipment]

Last year in our February 2020 Newsletter, we commented on two of the RETRO jobs we were then completing. These were respectively in New York and Virginia and were completed without any substantial glitch for the individual customers for whom we still work regularly. We also noted that "Retro" jobs were a growing aspect of construction for us.
An earlier November, 2018 Glass Magazine article had reported the areas of the country that are growing most (in revenue) in the general metals industry. Not surprisingly, the Northeast and West grew the most, followed closely by the Southeast. When you factor in how many retro jobs are in these areas, this is not at all surprising. Here in Orange NJ, we can see the ever-changing skyline of New York City. This series of new spires and construction cranes well-illustrate in clear relief all the new work recently completed and in progress. The 2018 article closed with a brief summation of observed trends that seem to continue. These were not surprising to us either as our owner, Jim Murray has often remarked how our orders reflect building trends closely. To put it succinctly, the repeated plans we saw over the last two years were focused on better thermal performance, the incorporation of pre-fab systems (to meet compressed job schedules), unique custom designs, larger glass and steel panels, and surface finishes in striking colors married to glass apertures to let in the natural light.
In short, we were happy to read this report as a good deal of our work relates to steel products related to glass (in the form of mullions, curtainwall anchors and miscellaneous specialty steel parts), That the industry is growing is, of course, welcome news for us. But that we rightly anticipated what we needed to do to meet the demands of these jobs was even more welcome. We are now even more computerized, communication-enabled, staffed and fully prepared to nimbly meet the 21st century industry demands we foresaw, whether for retro or new building. This planning should also dovetail with your needs and your job specs so that together we can "turn shop drawings and engineering faster so that we can get submittals returned sooner….(and) concentrate on doing it right the first time." 1
Metfab Metals can again rightly say that we have decades of experience and skills in all manner of fabricated metals (and all the needed technology to support these)so that we can help YOUR jobs go smoothly from its earliest stages!
Call us; you'll soon see we produce.
---
1. Glass Magazine November, 2018 "Top Metal Companies" at p.27
---
Call me for ALL your METALS questions. If I can't answer it,
I have all the needed "sources" to do so!
Jim Murray, C.O.O. 973-675-7676


---
We always offer to work with our customers from the job concept stage to anticipate issues before
fabrication, to suggest better ways to order, extrude, cut, drill, paint, finish, even stage
and deliver and always to save time and money
---