Metfab Metals, LLC


| | |
| --- | --- |
| MEMBER: | |
Despite Pandemic, We Continue to Supply Our Customers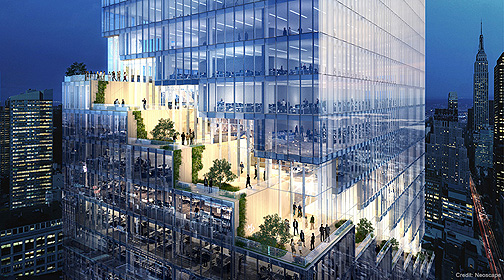 [Courtesy of Tishman-Speyer, 2021]
The above cutaway is from a 21st century rendering of "The Spiral" that just topped out in January this year. This NYC building is located in the huge West Side Hudson Yards, at 66 Hudson Boulevard. This is another of the new "Supertalls" now rising in Manhattan. We are proud that we have contributed our AESS skills to this 65-storey beauty, as well as to several earlier buildings at Hudson Yards.
But, again, our work here would have been impossible without our technology, especially at much earlier phases of this erection. As we have told you for years now, we have constantly upgraded our technology so we can even qualify for such jobs. Now it's paying off for us---and you.
In the fabrication and construction business these are now no longer just some fancy "bells & whistles" but rather an essential set of tools because how you first see things truly depends upon the equipment you have through which you "see" them. Just think about how Excel, CAD and 3-D drawings and other programs let you "see" things you might have had trouble even accurately conceptualizing just 10-20 years ago! We are daily using office---and shop--- technology to meet the rigorous demands of both accurate production and documentation for every job. We have been preparing for these growing needs for over twenty years. In these years we have made whatever the customer's metal fabrication plans required: AESS to Major Mullions to huge stone anchors, trusses. "glass shoes" and many other specialty metals products. The knowledge and skills we acquired over the years now make us fully equipped and able to meet any fabrication, spec or transparency need your job dictates, no matter the size or complexity.
So what does this mean to you in 2021, during or hopefully after this pandemic, as our customers here at Metfab Metals?
It means we have updated, invested. learned and understood our marketplace, our industry and----most of all---you, our customers. So much so that we can fulfill all your fabricated metals' needs---simultaneously meeting any special conditions of your project: electronically receiving initial drawings and documentation, reviewing these, breaking them down on our screens, exchanging changes or even suggestions for further architectural and engineering reviews and approvals down to later certifications 1, packing, timing, delivery and so much more. Our technology is no longer a luxury; it's essential to smoothly interface with our customers on buildings like the "Spiral".
Call us; you'll see what we have written here is what happens there.
---
1. Metfab Metals is an SBE, SAM-certified, AWS-certified and regularly works in tandem with a WBE to meet any specification or set-aside your particular job has! We are also a member of GANA and AISC. We are prepared to meet your project's most stringent spec.
---
Call me for ALL your METALS questions. If I can't answer it,
I have all the needed "sources" to do so!
Jim Murray, C.O.O. 973-675-7676


---
We always offer to work with our customers from the job concept stage to anticipate issues before
fabrication, to suggest better ways to order, extrude, cut, drill, paint, finish, even stage
and deliver and always to save time and money
---