Metfab Metals, LLC


| | |
| --- | --- |
| MEMBER: | |
We Also Supply RETRO-FIT Projects

Of course, Metfab Metals doesn't work just locally or in New York City. We've done jobs all over the country: some even outside the USA. But at present we are working on several challenging RETRO jobs in Manhattan itself. Look at this "new" beauty right in the heart of the Big Apple: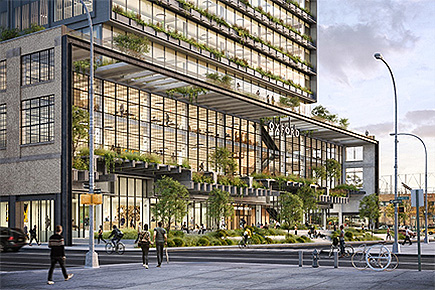 [Rendering of 550 Washington Street by COOKFOX Architects]
This will be the new "GOOGLE" building (commonly referred to as the GOOGLEPLEX), the East Coast company headquarters at 550 Washington Street, NYC, NY). To us, It's now what we call a "retro" job, one that is not an entirely new structure, but rather a re-purposing of a solid, existing building, formerly dedicated to a very different function. Here's some of what we contributed (in part) to this makeover of the former St. John's Terminal on the lower west side near Houston Street: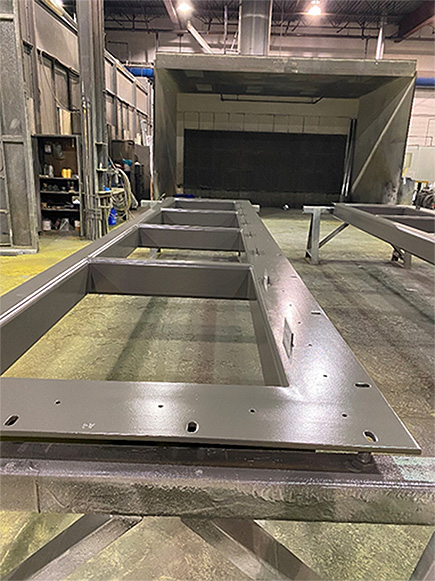 [A needed specialty AESS sub-girt on the floor of our fabrication shop, ready for shipment]
Our work at this Greenwich Street location in Manhattan was a full-on retro-fit and retro-clad of the former structure.
In other media (and on our website), we have provided a fuller listing of these types of jobs we have done, as well as many of the AESS aspects of these jobs we have undertaken, up through 2021. The range of these RETRO jobs is such that we have proven over the years that we can produce, and timely deliver, any such specialty parts these jobs always require.
We have many regular customers for whom we are the "GO TO" guys now for their major RETRO and AESS projects. Years of continuous AESS work for the mega-development at Hudson Yards in New York City for multiple customers is a clear endorsement of our capabilities in this art form, as well as a real-life recognition for the type of expertise we always bring to these specialty AESS and RETRO jobs. We bring the same care, precision and effort for your other daily, more mundane projects. Keep us in mind for all your steel fabrication jobs, no matter their scope, sophistication or specifications.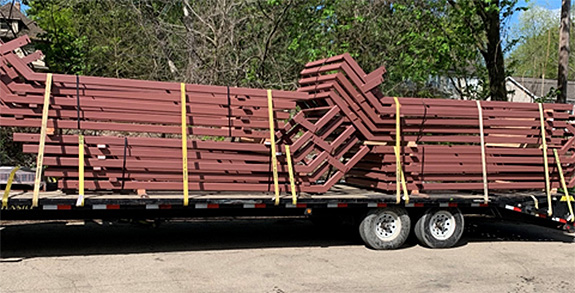 [Here's another truckload of fixtures needed for yet another airport job (this time at LaGuardia Airport "LGA" in New York). These soffit supports will allow for the needed reinforcement of aspects of the building that field measurements show to be out of round and return all the lines to plumb, before further steel can be installed such as "replacement slab edges" so that new windows can then go in evenly and easily. We make these also and ship trailer loads, often weekly.]
---
Call me for ALL your METALS questions. If I can't answer it,
I have all the needed "sources" to do so!
Jim Murray, C.O.O. 973-675-7676


---
We always offer to work with our customers from the job concept stage to anticipate issues before
fabrication, to suggest better ways to order, extrude, cut, drill, paint, finish, even stage
and deliver and always to save time and money
---