Metfab Metals, LLC



We Create Specialty Metals for Residential Projects Too

| | |
| --- | --- |
| MEMBER: | |
YIMBY Is Telling a Story that is Real for Us Already
Metfab Metals has supplied a lot of well-known commercial jobs in New York City, Washington, DC., Philadelphia and even nationwide. All of these call for our skills in fabricating unique architectural members both internal and external to the building itself. We have done museums, hospitals, educational buildings, office towers and more. Now we are seeing more residential high-rises.
A recent edition of New York YIMBY, the online construction reporter, reveals this aspect of our industry that seems to be expanding, especially in the larger cities. Many of these new buildings are not exclusively commercial buildings as such but rather residential high-rises or mixed use structures. The "Outer Boroughs" (Queens, Bronx, Brooklyn & Staten Island) are developing perhaps more such properties currently than even Manhattatn.
In recent years, we have been privileged to be selected to supply a spectrum of specialty metals for various aspects of a number of buildings at Hudson Yards. These applications varied from commercial buildings to retail establishments, and now to a residential building at 50 Hudson Yards. (pictured below)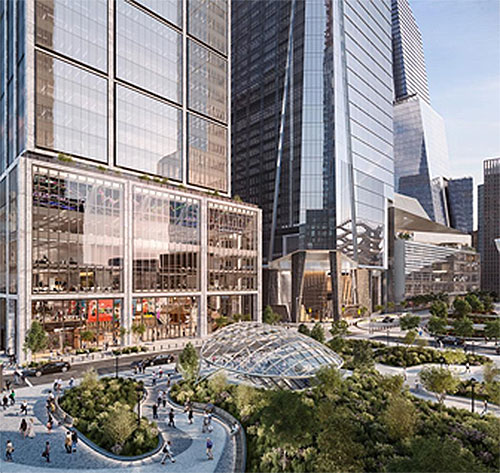 [Architect's Rendering of 50 Hudson Yards]
YIMBY has now reported, in recent editions, a spate of new residential towers that plainly feature many of the entranceways, lobbies, atriums, overhangs and the other specialty items we have built now for many years. Here are just a few:
1. 550 Clinton Avenue, Clinton Hill, Brooklyn, NY;
2. 2 Blue Slip, Greenpoint, Brooklyn, NY;
3. One Boerum Place, Downtown, Brooklyn, NY;
4. Emerson Lofts, Jersey City, NJ;
5. 199 Chrystie Street. Lower East Side, NYC;
6. And so many more.
Many of these new residential buildings are going up in the "Outer Boroughs" of New York City as well as burgeoning areas of North Jersey, especially from the George Washington Bridge south. What we have done here at Metfab Metals for Hudson Yards we can readily do for these projects also. Try us, you'll see.
We are already the "GO TO" guys now for challenging jobs, such as RETRO and AESS projects for multiple customers in these art forms; we always bring to these specialty AESS as well as RETRO experience of many decades now. Let us bring to your varied projects the same care, precision and effort we build into precision specialty parts every day.
---
Keep us in mind for all your steel fabrication jobs, no matter the
configuration of the building, its scope, content, sophistication or specifications.


Jim Murray, C.O.O. 973-675-7676


---
We always offer to work with our customers from the job "concept" stage to anticipate issues before
fabrication, to suggest better ways to order, extrude, cut, drill, paint, finish, even stage
and deliver and ------ and always to save time and money
---