Metfab Metals, LLC


| | |
| --- | --- |
| MEMBER: | |
Well-done is better than well-said…..
Metfab Metals has reported in these Newsletters and in other materials to you over the years many large (and some smaller) projects we have successfully completed with our partners-----and which still gleam today. The easiest to point to are now decades past, such as:
• BWI Thurgood Marshall International Airport, Baltimore, MD (unique, finely-finished "space frame still gleaming at the ceiling level, now over 20 years after installation);
• "NMAAHC" or National Museum of African American History & Culture. On the Mall at Washington, DC (we fashioned and finished huge AESS mullions and related parts to create the beehive look of the outer walls of this historic building), still shining now over five (5) years since its delivery and installation.
Of course, the headline above is not original to us as it is a quote from Ben Franklin often paraphrased by people such as Walt Disney who suggested that, if you wanted to get something done, start doing it. On this note, our owner, Jim Murray, recently noted that we haven't reported the recent mega-jobs we have already successfully completed. [Simultaneously, we have also turned out mundane daily miscellany for regular and new customers. Try us, you'll see how efficient we are delivering the parts you specify, and even help to design/adjust from the concept stage. Some of our more prestigious "name" projects include:
• The Ronald O. Perelman Performing Arts Center In Financial District, Manhattan (2021); Scope: Curtainwall Support Anchors; Miscellaneous Metals
• Hudson Yards-----50 Hudson Yards, NYC, NY (2021); Scope: Mullion Reinforcements; Embeds & AESS Glass Steel Frames ("Glass Shoes");
• LaGuardia Airport, NYC (Queens), NY (2021) Scope: Soffit Framing; next phases included AESS Miscellaneous Fabrications. [After the project delays of the 2020 pandemic, the release of this major job was the just the first of many such delayed projects.]
• Hudson Yards-----The "Spiral", NYC, NY (2021); Scope: Mullion Reinforcements; Embeds & AESS Glass Steel Frames ("Glass Shoes")
• 550 Washington Street, NYC, NY (2020); Scope: AESS Sub-girt Trusses; Miscellaneous Fabrications for Google's new Manhattan Headquarters; Retro conversion of St. John's Terminal
• Marriott New World Headquarters, Bethesda, MD (2020); Scope: AESS Major Mullions; Miscellaneous Fabrications.
• BL4 Paseo, Boston, MA (2020); Scope: AESS Major Mullions; Built-Up Boxed Beams
All of these called for our skills in fabricating unique architectural members both internal and external to the building itself. We have done museums, hospitals, educational buildings, office towers and more.
As you can see, in recent years, we have been privileged to be selected to supply a spectrum of specialty metals for various aspects of a number of buildings at Hudson Yards here in New York City. These applications varied from commercial buildings to retail establishments, and now this residential building at 50 Hudson Yards. (see picture below)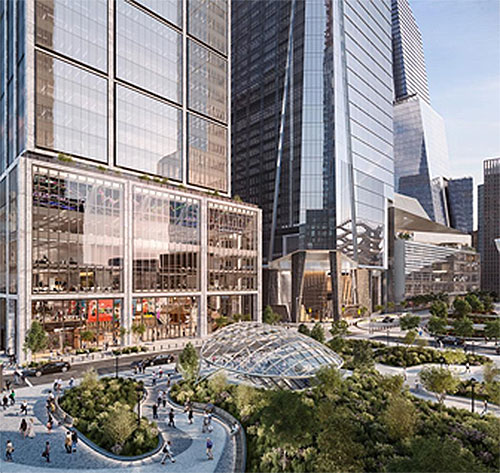 [Architect's Rendering of 50 Hudson Yards]
What we have done here at Metfab Metals for Hudson Yards we can readily do for your projects also. Try us, you'll see. We are already the "GO TO" guys now for challenging jobs, such as RETRO and AESS projects for multiple customers. In these art forms; we always bring our specialty AESS as well as RETRO experience, now of many decades duration. Let us bring to your varied projects the same care, precision and effort we build into precision specialty parts every day.
---
Keep us in mind for all your steel fabrication jobs, no matter the
configuration of the building, its scope, content, sophistication or specifications.


Jim Murray, C.O.O. 973-675-7676


---
We always offer to work with our customers from the job "concept" stage to anticipate issues before
fabrication, to suggest better ways to order, extrude, cut, drill, paint, finish, even stage
and deliver and ------ and always to save time and money
---